Imaad Majeed Vs Larry T Hill: Results
And the result is………………why were you not there yesterday to witness this in person?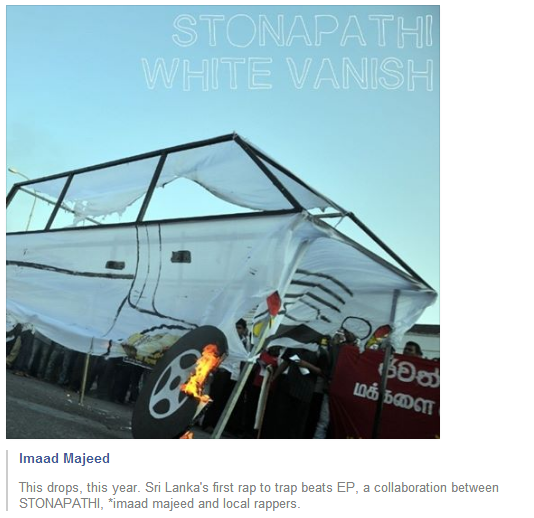 Vino Defeato (Vintage 2014)
He is light in water, feet heavy on land,
toes curling in the roots of his belonging,
finding himself across continents,
climbing sails, wading waves,
a Taprobane tan on the back of his hand,
he knows his colour and its ethnic marker
better than an FAQ or a saadhu's mantra.
Hilarity for namesake, there's no such thing
with this cat it's all gags, goofs and laughs,
he gets a crowd going with his zippity-zap.
back and forth, this and that, bmmshk-chika-bmmshk
echoes the duk-duk of a tuk-tuk heart,
sports no tattoos but the decals of wisdom
are penned to paper, reflections, recollections,
he's not one to be ungrateful, always aware
of what he owes to the world, the universe,
that sacred balance of karma works in his favour,
he's got an ear for conspiracies but only because
they conspire towards his will.
Humble, gentle, ready to pounce when invoked,
he's a pretty decent guy, yeah,
I'm leaving all jokes
aside.
– Imaad Majeed
We've been told that videos have been taken and would be uploaded soon, await await!
This saw its exclusive release on The YES Home Grown Top 15 last month and finally its out for you to listen to at your convenience. If you have listened
see we heard that it was more than a rave and a half for everyone at the fest this year and DJ Shiyam posted his set from that date a
a progressive track is in the making according to this Dj/Producer from the Wattala region.after "Veddah" & "Kotthuman" this should be a solid lil treat! No release date has been