News : Umaria & Chitral To Tour USA This Month!
It was nothing but all deets in n a post made last month by Chitral Somapala! It's official, the two will be performing in the U.S.A. together, for the first time too, and we def recommend the experience!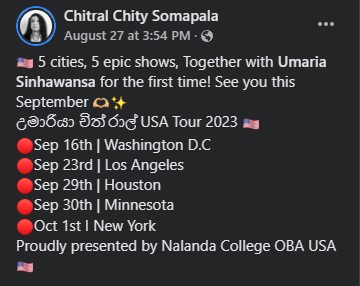 So what can anyone expect when a conscious rapper like RapZilla & the gran daddies of Sinhala collaborate? (answer goes here), we too dont know what to expect but all
This is one heck of a release by producer/dj Dropwizz. We love this ambient twist of 'Avaritia'.
Released on the 30th of October is the all new music video for edm producer & dj Arixx's single 'Chocolate'. Its fun and def a must watch!