My Kind Of Groove – PodGroove #020 – Ultra Guest Mix
Who doesn't know A-Jay (aka Aqib Jhan) and his massively insane mixes? On this mix though, get to know the very cool Dj Ultra (skills and selection)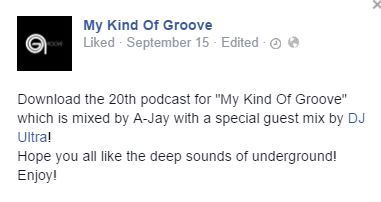 My Kind Of Groove – PodGroove #020 – Ultra Guest Mix by My Kind Of Groove on Mixcloud
To a sweetheart from the home music scene, here's wishing you nothing but an awesome year ahead in music ..you awesome Mayanthi De Silva – team yazminyousuf.lk photo credits:
Edition 2 is a solid! Packing in more progressive goodness than you can ask your bandwidth for, check it out already!
There's nothing too exceptional about this track as its right down Arjun's comfort zone (cheesy, cute and slightly tugs at your hearts strings) and that's not a bad thing, yet.