Ex-Alien By Medhani Jayzee (Due To Popular Demand)
you read right…we've had a bunch of people wanting us to put this in here and you'll know why if you haven't see that work of (your imagination goes here) now we don't know whats worse…doing a terrible song and being proud of it to the extent of even having a video or being so bad that you actually get popular by the crazy amount of repeats and shares across several different networks in Sri Lanka…it's only gotten shared during the weekend and by the looks of it, Iraj might have competition in terms of youtube hits.
All hail SL's Rebecca Black, BUT unlike Black, Medhani's lyrics are amazing incomprehensible, they are so deep people are naturally drawn to the point of pressing repeat.This track also is inspired by what comes across as a Twilight die hard who learned a few new words after maybe watching the movie on repeat or in veeerrryy slow motion..in her own words "making the basement a real but transcendental,superstitious scene with a werewolf which seems so surreal but is really conceptual while it never goes against but beyond the spiritual context"
The overall production sounds and looks like they've been manufactured in a secret Chinese production house cuz why not right?
In conclusion – somethings are so baaad, they actually make your day….Sl we know what you're tripping on!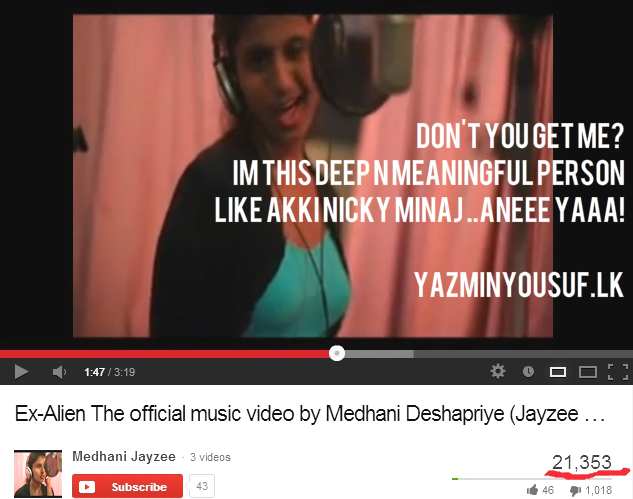 We don't know who to kill, the producer who made a quick buck off this girl or her parents for not being parents at all
5 classics from Sri Lanka's music scene in one mashup is what this is by singer Huseythan Vishva.
Here's a remix of The Daddy Band's classic 'Maa Haa' no one saw coming. See how you like this effort by Bo Sedkid.
we love the convergence of genres and it almost seems like iClown gave it his best on this…all the best man, hope this submission gets you that prize! (this remix