Dropwizz's Remix Of Bea Millers "Young Blood"Got An Official Release Thru Hollywood Records
And while this is pretty big news for the guy we're not sure why vevo had to be a complete dick about not allowing users in the producers own region not check out the remix.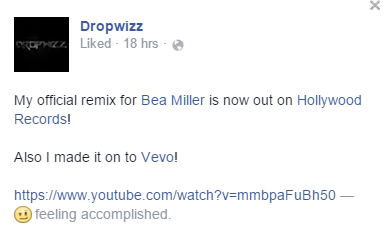 try a proxy or something, it might work
This we believe is such a brilliant step for the team that is all about good, live music & promoting originality! *the melospace Why we feel this is one of
Interesting theme for a Rugby team. This single in particular see's Tony T on a single after "Your Love" the other take, see how you like this one by Iraj
Vocalist Roomy is back with this all new singls. Titled 'Wurkayo', this touches on quite a few things surrounding the present political climate.