Piti G No Longer With Stigmata
This comes to us as a complete shocker too cuz hey, who saw this coming? Especially since this year marks 15 years of the band's existence in the metal scene. No announcement of a replacement drummer yet but we're keen to know who the next name is.
Thanks for the good memories Piti G, you will be missed!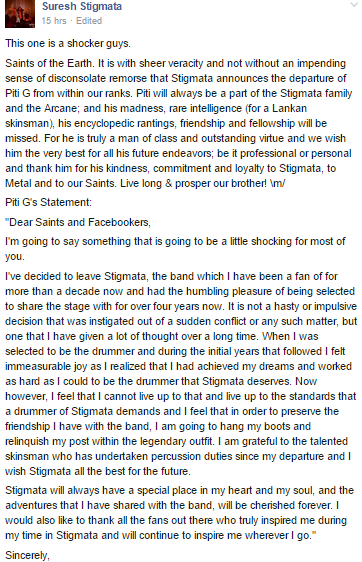 Check out the full statement & fan reactions here
photo credits: Samitha Eshan Siriwardena for CulteRAW
always support an independent photographer by recommending their work
Released on the 16th of December 2017, here's Sakwala Chakraya's debut album finally on soundcloud. 'This album is dedicated to the life and adventures of Prasanna Abeyseykera, dearest friend, ally
Organized by Sacrament, the final metal gig of 2016 saw various metal genres and for the first time, an all Maldivian set by the prolific Zayaan. Here's a few moments