That Monster Sinhala Rap Collaba "Ginna" Is Out
Featuring a ton of rap heavyweights from the island (Born Lord: Drill Team, K-Mac: 44 Kalliya, Prasa KG, Big Doggy, Killer Bee, BK & Fill T) and being backed by a new super force – DJ RD, the mad stats that we see on facebook comes as really, no surprise! Under 24 hours too!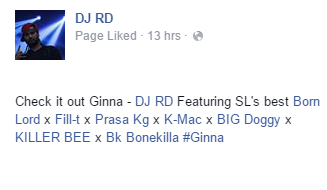 This single, hands down has to be one of the biggest from the island this year and see's something different – The coming together of 2 generations  of rappers & "rival" groups and this alone is a statement for the year and we hope that this continues cuz this IS the way forward for the upliftment of a positive Sinhala rap culture.
Check out the single here Sri Lanka – Ginna  
Check out the single here Sri Lanka – Ginna  
Check out the single here Sri Lanka – Ginna  
We encourage you to share this as much as you can as

"There was never an international scene without a local one"
They are some of the names our home music scene is proud of: Tenny Stigs (Stigmata), Mikhail Daken (ex Picasso Recess), Duminda Harshaka (pioneer of Trance & EDM from Kurunegala)
Ghana born Junior B is the artist you hear on the track and while hes not in the game anymore, this track that was produced by Deyo about 6 years
Madaid music is back with his second release titled 'Superman' and this features fresher Cozzy on vocals.