Shermaine Willis Announces Debut Sinhala Single
Also announces that there will be some wowza dance moves n things that will make you go hmmmmm, mmmmm!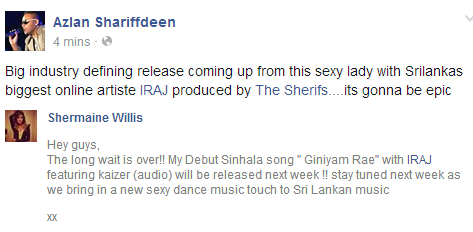 All members of the booka fam posted identical statuses all day long yesterday and this is a good thing. September, come soon!
Honey Niagara is a farily new name from Lanka's growing Tamil music scene and here's his newest mashup of a bunch of classics from home.
Released a few hours ago, here is Buddhi De Mal's newest release which is a brilliantly produced masterpiece of story telling & song! This one features vocals from radio personality