Shehan Somaratna Announces New Music
The start of this year say him drop his debut studio original 'Said Enough' ft Tey and fast forward a few months ago, the video for the single and now comes the announcement of more awesomeness from this brilliant singer/songwriter mind.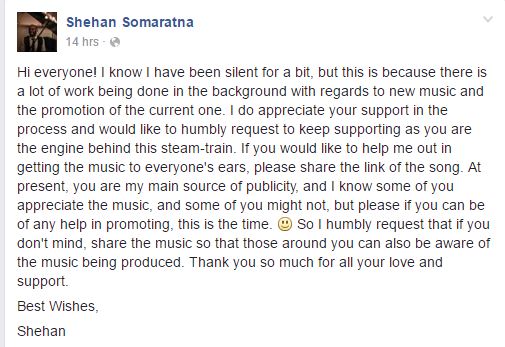 Not familiar with his music? just click play
They're known for a few singles – their takes of "Wiggle"and "Wrecking Ball", Christmas Medley and their original with producer Pasan Liyanage which was a hit on the countdown during the
You've heard this live over a few times and now, check out the studio release which was produced by Kasun Nawarathna, Abyss's debut single is impressive!
Known for his YES Home Grown singles 'Someone Like Ellen' & 'Not Easy' CJ is back with probably his first studio Sinhala single and its as quintessential CJ as it