Mosh Scream Rock 4 Announces A New Date & A New Name On The Roster
Ja-Ela's very own OCM makes it to the gig line-up and while we're not sure if this is their first time playing in the hill capital, they're sure to be something else altogether on stage and are a must to check out.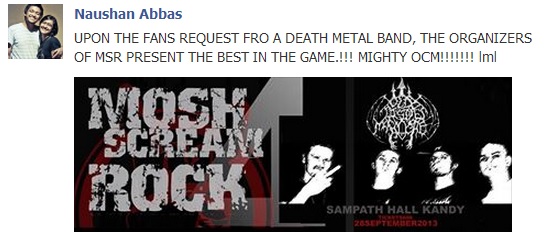 Mosh Scream Rock is on the 28th of September (the precious date has to be scrapped due to elections)
click the event page for further details: https://www.facebook.com/events/606522152721403/
Their Daredevil's tribute remix is slated to drop as soon as the end of this week and while we're not given a date, we're guessing it would be on the world
This re-released version of Eletrothovil is packed with more elements and signatures from both producers; we think this makes for a mighty good listen.
Its out finally! We don't get the doll but other than that, it aint too bad an effort.