iClown Teases Latest Unnamed Effort
here's all you need to know about it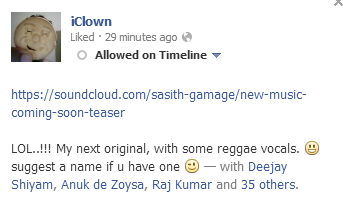 artwork credit: iClown model: his ginger =D
Here's a single that's a dedication to the memory of Romali De Silva. Heart tugging and all that good stuff, check out the single already!
Its almost like we are witnessing the biggest chart battle of the Mighty S's! Congratz to the producer/Dj on this reclaiming. No one dropped out of the countdown this week.
The original is nothing short of stellar, but amping it up by several notches is this remix by producer PSJ, that got released on the 31st of May.