Good Guy Iraj & Big Harsha's ALS Ice Bucket Challenge
He did it! Such epic lolz!

And not only did he donate to the ALS Association in the US but also to HOPE Sri Lanka – an organization that supports orphanages, neglected, abandoned & orphaned children.
Lets see if these nominated people do their bit =D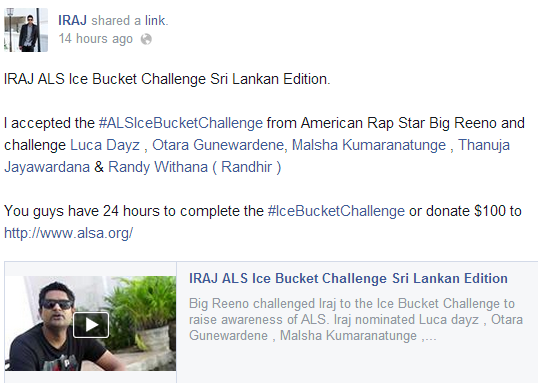 And Otara was the first one!
Even though Big Harsha wasnt nominated on Iraj's video, he took up the challenge.
It was only a few weeks ago that fresher Jessica Vangramberg dropped her debut single on Youtube, a touching tribute to her late dad. We got catching up for a
His second single see's Rohitha continue on the veins of his first single (also produced by YES Home Grown Award Winning Producer – Pasan Liyanage) and in case you were
Singer & Producer Yuki is back with this super impressive collaba featuring rapper Dilo.