Good Guy Iraj & Big Harsha's ALS Ice Bucket Challenge
He did it! Such epic lolz!

And not only did he donate to the ALS Association in the US but also to HOPE Sri Lanka – an organization that supports orphanages, neglected, abandoned & orphaned children.
Lets see if these nominated people do their bit =D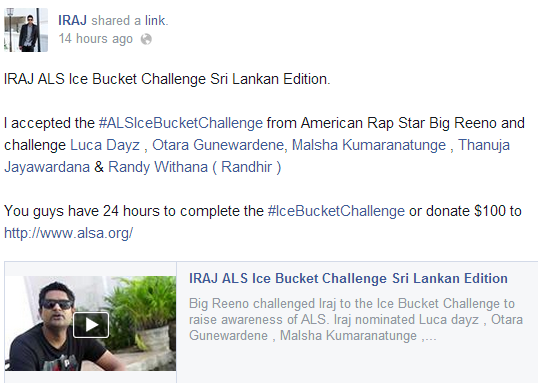 And Otara was the first one!
Even though Big Harsha wasnt nominated on Iraj's video, he took up the challenge.
Their biggest live hit is now on Youtube and we love how the same energy is encapsulated in the studio take! Ladies & Gentlemen, get ready for one epic sonic
Child Labor has always been a serious issue globally and to take a stand from Lanka, is none other than Ridma Weerawardena, Charitha Attalage & the fam from the camp.
R.A.G.E fans…you got news too! Here's his cover of "Even Flow"which is currently at number 1 on TNL Radio's Criminal Records Most Wanted