Dan Aloysius Covers Bon Jovi's Always
we don't know what went down at the Jesus Christ Superstar auditions on Sunday but whatever that made Dan do this cover, sure did bring out that unique rawness that we don't get to see every-time from him. we think that it just might be the directors loss for not having someone as good as Dan on-board.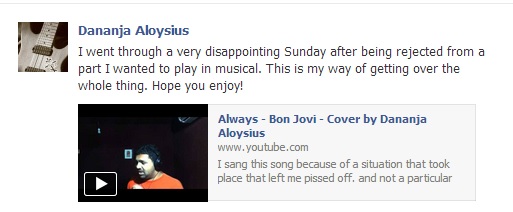 Now here's two freshers from the scene with their take of a radio classic we know all too well. Do check out some of their other takes too on their
Released yesterday comes this all new remix of 'Stay' by Mika Ceylon and we are lovin her take of this 2021 classic.
When you think of iClown, this thinking is automatic – 'Get Ready For A Bruuutal, Unique Sonic Experience' and Eshantha Perera (vocalist/drummer of Constellation) 'Mad High Pitching & killer application