Christian Q & Shokstix- Daenerys (A Tribute to The Mother of Dragons)
These 3 will forever have a special place for all that love the series..for giving two amazing tracks! First this bootleg of the theme
and now this!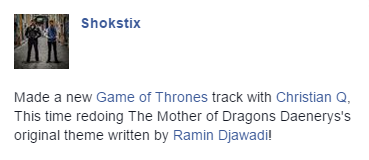 We call this a fitting tribute to Danny!
Released on Valentine's day is this all new collaba by YouTube sensation Chamel and vocalist Meena Prasadini. An original single by Chamel, this one is composed, mixed and mastered by
The prince of Sinhala Trap aka Cairo Rich is back with this pretty sick collaba that features that Nuwara Machan, Costa and a fresher from the scene – Nikz Nk.
After a hoard of #SelfieRap on the interwebs, this single is refreshing…this kid (Tharindu Shalinda)  right here does have a lot of that old skool soul and it would be