Bachi Susan Has A New Track Comin Out
And we love this announcement right here!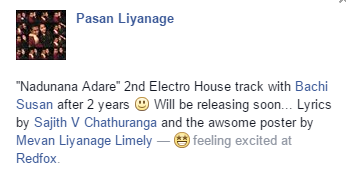 These two have amazing dynamics and in the past have put out some stellar singles including this one from a few years back. We decided to post the remix version cuz everyone's heard the original.
our internet provider wasn't the greatest but like our grandma once said, its better to be late than never so Happy belated cake day to Ayesh L Samaranayake (producer/dj, J-Nil
This is some pretty moody (the moodiest in a while), lo fi goodness from the Gampola based producer..see how you dig this! If you like the single, don't forget to
Shalinda Halpé (guitarist) hope you have the best year in music fella – team yazminyousuf.lk photo credits: Vishwa Fernando support an independent photographer by recommending their work