Bachi Susan Has A New Track Comin Out
And we love this announcement right here!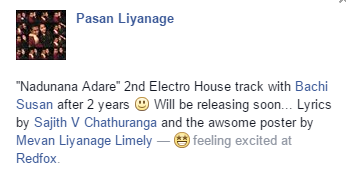 These two have amazing dynamics and in the past have put out some stellar singles including this one from a few years back. We decided to post the remix version cuz everyone's heard the original.
The world cant get enough of this single a few reasons  – Drake's attempt at "dancing", his lame turtleneck and the fact that this single is too damm infectious! Dropwizz released
Vidula Ravishara is no stranger to the lankan music scene, having released 'Kawiya' 6 months ago and now this all new single 'Hethuwa', which is a must check out!
This is a brilliant mix of some pretty sick DnB tunes, good job on the mix fella! Drum N Bass Madness – Set 1 – iClown by Sasith Gamage (Iclown)