Bachi Susan Has A New Track Comin Out
And we love this announcement right here!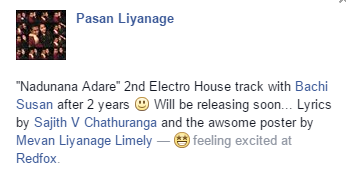 These two have amazing dynamics and in the past have put out some stellar singles including this one from a few years back. We decided to post the remix version cuz everyone's heard the original.
Ruvini Seresinhe has an all new single coming out on the 2nd of Nov ember and here's your first sneak peek of 'Mathakaya'.
Collaborating with Rebel Tech, 'Modular Colours' is a sample pack of hip-hop, broken beat, dub and electronica by the creative genius that is My Panda Shall Fly. If you dig, make the
Released thru the Balkan Connection, this 2 original tracked EP also sees remixes of both singles 'Wanderer' & 'Eternity'. If you love your progressive house slighty on the dreamy, chill