Asvajit – Hopper (EP)
Call him the king of minimal house as many times as you wanna but this Dj/producer can churn out tunes that's a lot more than expected of him, this is a 15 minute testament.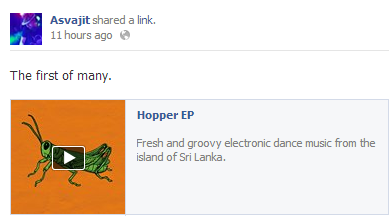 [media link="https://soundcloud.com/asvajit/sets/hopper-ep"
This has to be one of the funniest videos from the Lankan who couldnt really give about a lot of things..gotta love his sense of humor though!
Now this gives you more of a sonic insight into a pretty promising album by guitarist Arjun Dhas, that is to be out on the 5th of March. No word
You would have seen them a few Saturdays ago, live @ the second installment of Rock N Roll. Get to know this fresh band from the scene already, Sri Lanka!