18 Years Of Stigmata : The Legacy Continues.
Sometime during the year 1998, a bunch of ambitious kids from St. Thomas' College, Sri Lanka, decided to put together a band called Stigmata, a name derived from the Arch Enemy album of the same name. Their first single, 'Fear', raised hell on the local rock charts and led to them beginning their journey towards international recognition with their first EP, 'Morbid Indiscretion'. And so began Stigmata's journey, a journey that would make them a standard in the Sri Lanka metal industry that other bands would strive towards for years to come.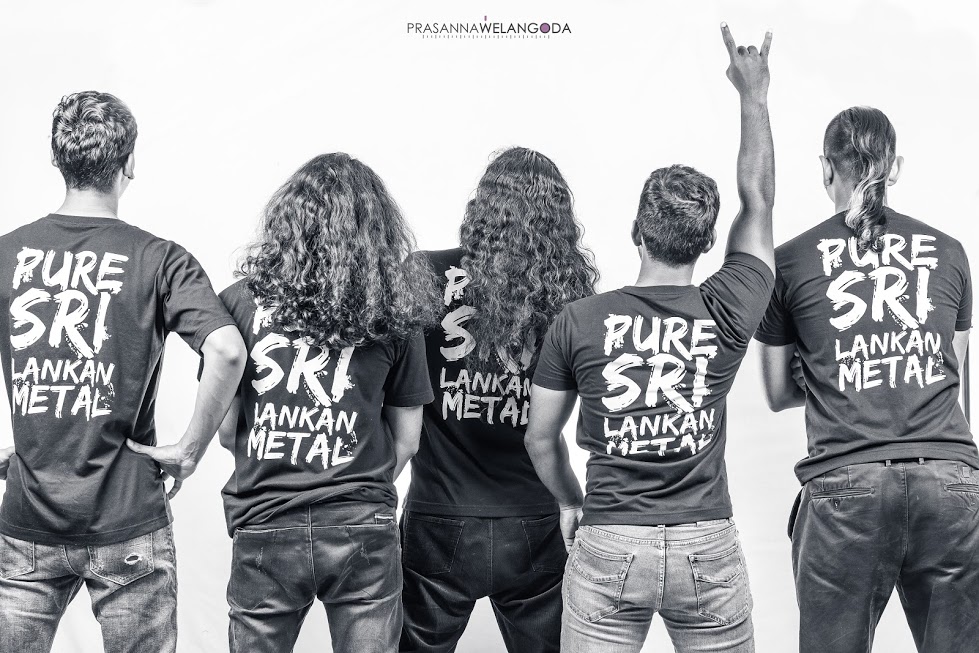 photo credits : Prasanna Welangoda
18 years of music and pure Sri Lankan metal followed from Stigmata, resulting in the production of multiple albums that were well received by countless audiences, not just in Sri Lanka, but from fans around the world.
Through the years, Stigmata has been through many lineup changes, one of the most notable and recent changes being the departure of Andrew Obeysekere, one of the most respected and talented guitarists in the local music industry, along with Taraka Seneviratne, a ridiculously talented drummer who holds a position among the top percentile in his craft. The core of the band remained as Suresh and Tennyson Napoleon (what a name!), fondly known as Tenny to most, stood firm on their roles in the band. Around them, the lineup changed a few times, the most recent change being the one after the departure of Andrew and Taraka. Shafeek Shuhail, also of Killfeed, made his appearance as one of the ax men of Stigmata, while Hafzel Preena, also of Sacrament, was revealed as their new skinsman, following the departure of Udaya Wickramage, who had a short tenure as the drummer of Stigmata. The current lineup stands as such: Suresh on vocals, Tenny and Shafeek on guitars, Thisara Dananjaya on bass, and Hafzel on drums.
photo credits : Prasanna Welangoda
Stigmata celebrated their 18th anniversary, coincidentally one day before the birthday of their notorious frontman (make sure to ask him his age when you meet him), on the 24th of March 2018, and they decided to do it in a particularly humble manner, hosting a free gig at The Bar Collective, inviting people to register on their website, ensuring that the assembled would be their ardent fans, or saints, as Suresh has named them over the years. Although this gesture may not be evident on a conscious level to many, I personally saw it as a heartfelt gesture that showed Stigmata's appreciation towards their long-standing fans.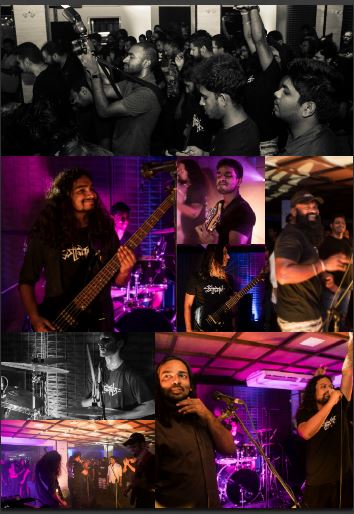 photo credits : Eshantha Perera
The gig saw the gathering of many familiar faces, countless musicians and contemporaries of Stigmata, along with Taraka himself who arrived to see his legacy being carried out.
The music itself was a wonderful mixture of the classics and the new material, originating from their older albums as well as their last studio endeavor, The Ascetic Paradox. Stigmata also debuted a brand new single, interestingly titled 'Infinity Wars', a shout out to the movie of the same name that will hit the silver screens in the near future. The crowd headbanged to Stigmata epics such as Swinemaker, Our Beautiful Decay, and sang along with "ballads" such as Voices. The crowd delighted in unplanned guest performances that saw the likes of Chrisantha De Silva (CC) along with a plethora of other vocalists who joined Suresh on stage to celebrate some of their songs, such as Jazz Theory.
The gig wasn't all about the pros though, which is to be expected after all.
Shafeek had a huge role to fill, coming into the band with the departure of a remarkable guitarist, and I'm glad to say that he has adapted well, approaching the challenge with his steadfast and determined demeanor, fulfilling his duties to the band with gusto and enjoyment. His synergy with Tenny was obvious and showed in his performance, not only staying true to the work of his predecessor, but also infusing his own style into the Stigmata material.
Hafzel came into the band less than 2 months prior to this important milestone, and believe me, he had big shoes to fill. A lot of the drum work from the most recent Stigmata albums were intricate and required extraordinary skill to pull off, and Hafzel had very little time to prepare for it. The very fact that he accepted the invitation to sit on the drum throne itself is one worth admiring and acknowledging, and I, as a drummer myself, find myself admiring his spirit and determination to take on the monumental challenge of being the drummer of Stigmata. That being said, the hiccups were evident and inevitable. Timing issues and a few mistakes were evident through the performance, minor ones that could only be noticed by fellow drummers and discerning musicians. The crowd were fully unfazed and headbanged through the set with abandon. As I said, mistakes were unavoidable, and considering the intricate drum work left to him by the past drummers, I'd have been shocked if there had been no mistakes. Confronted with the current situation, Hafzel presented himself admirably, slaying the drums and staying steadfast through exhausting tracks under hot lights and the unwavering shadow of the legacy he had to live up to. Hafzel has grown impressively through the years, and now as part of Stigmata, new challenges and bright lights await the young and ambitious drummer.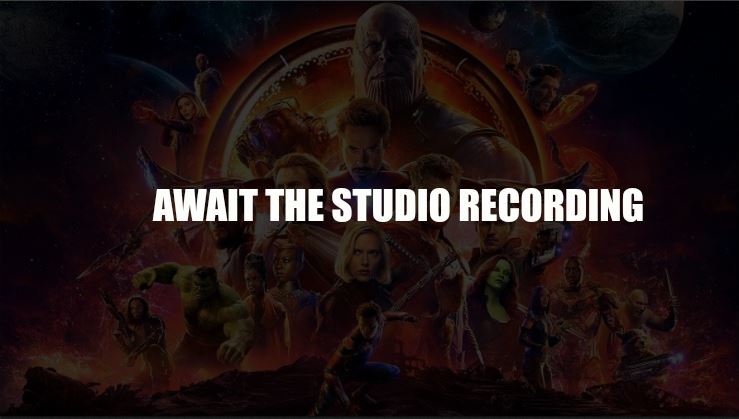 The new song, Infinity Wars, was met with mixed reactions from the crowd, which is to be expected. The new track took a different route from the style that fans were accustomed to, while still maintaining technicalities that were part and parcel of Stigmata's kit. The crowd didn't take to it immediately, and even I myself found myself not appreciating the new track as much as I would've liked to. Again, this is all to be expected and reflects nothing of the band's progress. Just as Opeth changed their direction, a new lineup and new blood in Stigmata means new ideas and new music, which may or may not take the fans some getting used to.
The location and a few technical issues concerning sounds (nothing new in Sri Lanka), also marred the performance to a certain extent. Again, these were minuscule details that bothered the crowd not one bit.  
The gig ended in hilarious style, with a birthday cake being brought in and wishes being sung to a wobbly Suresh.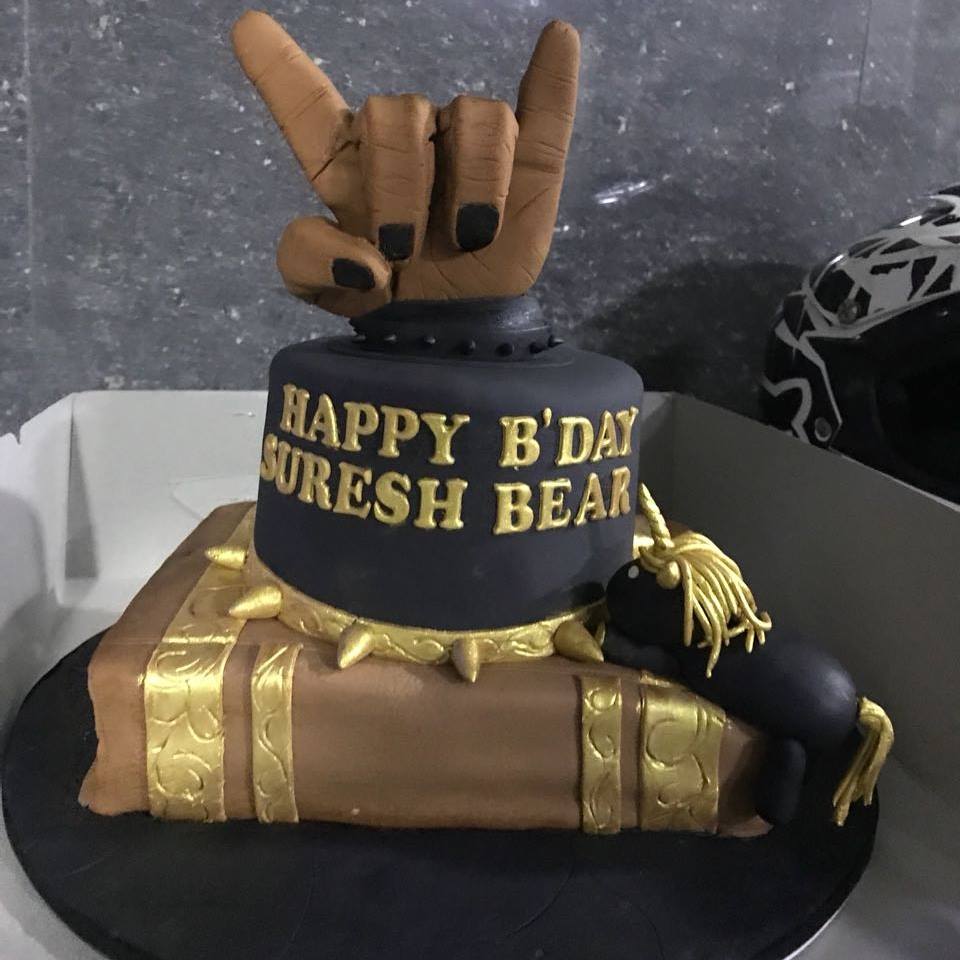 Stigmata is a proud band, and rightfully so, having deserved every bit of their fame and fortune, and they're not done. Not even close. With the influx of new blood and new goals in their crosshairs, Stigmata is ready begin another chapter in their journey, adding onto their already rich legacy as one of the most illustrious and accomplished bands in the Sri Lankan metal industry.
Review by Eshantha Perera 
Constellation, KillFeed & Noctua
Zedd's Clarity over time has become one of those songs you just cannot deny or run away from unless you're brave enough to say "Not Today Emo Me, Just Not
13th April was when this all new single / music video Kelwiz was released thru AirXoneMusik. It's heavy and a lot more in your face than his previous efforts.
Its been a while since we did a review of anything but hey, here's to a fresh start. So we went to see "The Last 5 Years" on the opening