Vote For DeLon!
We're STOKED for him!
and sincerely hope that you would help him bag this award.."Head High"a YES Home Grown Top 15 single got into the finals of the International Song Writing Competition.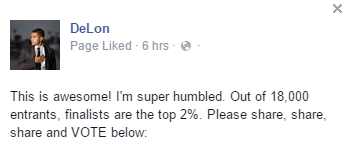 Now here's a take that's as comforting as hot chocolate on a cold winter day. Released on Easter, the Batterii's newest take of the two classics 'You Raise Me Up'
His second lovetrap remix is sweet and everything that the genre is: too awesome for a rainy day play .
Producer Kevin Maleesha is back with this pretty tropical sounding remix of 'Rather Be'.