'Turn It All Down' By Julian Simonsz Has Made It To The Finals & He Needs Your Votes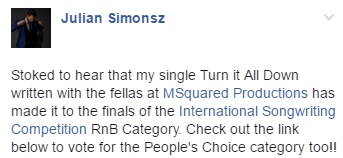 Now this is some brilliant news for the singer, performer & producer who's lucky single also got its premiere last night on The YES Home Grown Top 15! Making it on the comp is hard enough and getting this far sure is a feat.
Here's hoping one of our very own makes it!
Sandun's take of Stevie Wonder's classic (ft Guido Manchino) sure is a hit on radio and we're guessing it was the right time for him to drop a video and
It sure seems like Sinhala Rapper Kevin Smokio is making 2022 the year of his comeback with this all new single 'Colombo Rebellion'. Produced by Adeesha Beats, this single is
Here's a fun take of the classic 'Apa Sithana Pathana' by Sanuka & Windy. It's fun and makes for a sonic seasonal treat.