'Turn It All Down' By Julian Simonsz Has Made It To The Finals & He Needs Your Votes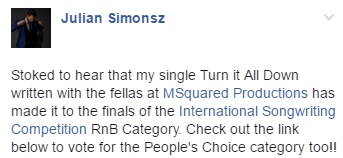 Now this is some brilliant news for the singer, performer & producer who's lucky single also got its premiere last night on The YES Home Grown Top 15! Making it on the comp is hard enough and getting this far sure is a feat.
Here's hoping one of our very own makes it!
We dont usually post an event announcement on the news page but this is a very special concert, as its for raising of Thriloka's new project "Kuveni Asne" 24th of
that awesome one man project from a pretty far off place called Battaramulla, hope you have the best one and maybe, just maybe we'll see you play live later this
We think this new series owns! Its a brilliant combo of genres from tech house to progressive..intertwined only the way he knows best which makes this an epic listen! It's up