The Slipping Chairs : One Final Friday
Each generation from Lanka has had their own favorite cover bands, the 90's & 2000's saw Venom, Rattlesnake, Misty and Wildfire (there's too many to name).
Come this decade, we had The Slipping Chairs. 

image source: their fb fan page
What started off as a 2 man project (Dylon & Chandu), became a full band a few years later and they soon amassed a legion of die hard fans who loved their very impressive takes of classics and their rock & alternative spins of billboard singles. 
They got massive support by TNL & even went onto releasing a full length album last year, titled 'The Sweet Escape' and this year, saw them have a single off it (raindrops) chart on the YES Home Grown Top 15. 
Their version of that Simon & Garfunkle classic 'Sound Of Silence' was a radio staple
A few weeks ago, fans of the band woke up to this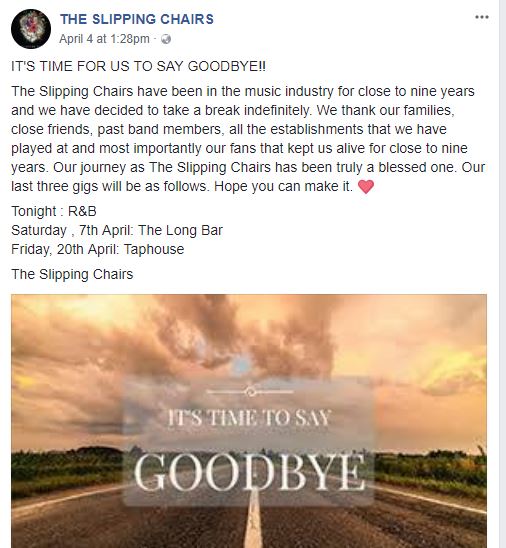 And today is the day where will see this band, play one final time at The Taphouse….Before you get dewy eyed, let's take a look back at a few really good times and prep up for a good one tonight!
Have you ever heard this take of 'Lean On'?
I mean, who else can pull off such a stellar, fun take of that melancholic billboard hot?
'Lightning Crashes' by Live has never had a more emotional take done by a Lankan band.
And finally, that amazing set at TNL Onstage 2016.
While it hasn't been the best year for music globally IOHO, it sure has been one heck of a brilliant year for music in Sri Lanka and to a certain
Eva Cassidy's single or that ancient Irish song (whichever version you like), has a fresh take by singer, songwriter and producer Jayanga. This one is an acapella version released not
The winner of YES Superstar : Season 3 just released his debut single BUT it's not what everyone expected him to drop. It's a light, fun Sinhala single with every