The Local Spin On efm
After what seemed like a few decades & shows like The SL Hot 10 (TNL), Crimminal Records Most Wanted (TNL) & The YES Home Grown Top 15 (YES101), this happened..a daily show dedicated towards the home music scene on a station not known to play home music ever   eFm
Hosted by Anil Balasuriya (a senior artist & one of the granddaddies of Alternative Rock in the country) this show is a talk show, which features more Alt/Rock plus live performances from studio guests which we think is cool!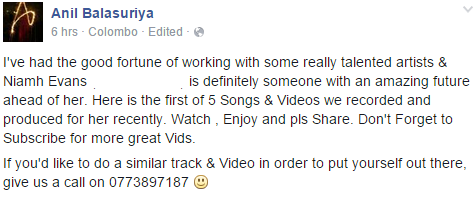 The first edition saw a live performance by Antoinette Wheelan who was backed by Talal
Want to send your music over? localspin@efm.lk
The singer / songwriter known for his single 'Poddiye' ia back and has an all new single that will be dropping sooner than you think. Here's the exclusive.
Released last month, this is Sanjeewa De Silva's debut English single and here's it's lyrics video which is all kindsa cute!
This cover premiered on the YES Home Grown Top 15 not too long ago and we think it takes a lot of guts for a buncha dudes to pull of