The Local Spin On efm
After what seemed like a few decades & shows like The SL Hot 10 (TNL), Crimminal Records Most Wanted (TNL) & The YES Home Grown Top 15 (YES101), this happened..a daily show dedicated towards the home music scene on a station not known to play home music ever   eFm
Hosted by Anil Balasuriya (a senior artist & one of the granddaddies of Alternative Rock in the country) this show is a talk show, which features more Alt/Rock plus live performances from studio guests which we think is cool!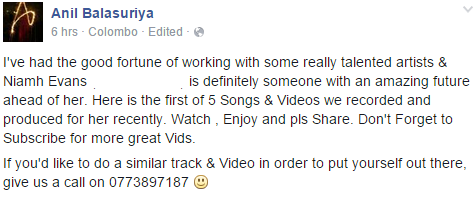 The first edition saw a live performance by Antoinette Wheelan who was backed by Talal
Want to send your music over? localspin@efm.lk
Known for his singles 'Unfaithfully' & 'Can't Stop Missing You', the Canada based Lankan producer & singer is back with this all new drop titled 'When You're Gone'.
Now here's a take of an Amaradeva single like you've never heard before by an all new bands called Thanthrawaadaya. This single was recorded Kasun Munasinghe @ the recent show
Raiza Saldin (singer), Georgie Alice (singer), Priyanga M Ranasinghe (videoman.5th Lane Productions) & Shenali John (singer) ..awesome name day to you guys and have a fantastic year in music! –