Niamh Evans: Sam Smith – I'm Not The Only One (cover)
This singer who is currently in South Africa came down for a visit and when she did took some time off to record a few videos with the very awesome Anil Balasuriya. See how you dig her take.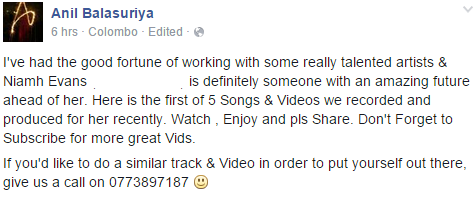 Rapper KK known for his single 'Scene Da' has been working o a brand new collaba, this time around featuring Rolex Rasathy..here's the scoop
Releasing on the 1st of March is this all new single / music video by Wings and here's your first look!
The first edition of Rock & Roll for the year was nothing short of awesome. Here's moments in case you were not there in person. Yohani kicked off the show