New Music Alert – Daffy Maestro's Trespasser
we like the coming of this announcement, at a time when we're hearing a lot of pretty electro heavy material…this comes as a refresher!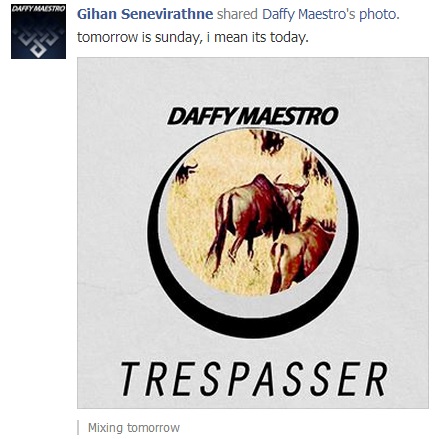 On the YES Home Grown Top 15! Looks like its gonna be epic celebration time in his crib tomorrow and the weekend! Well deserved fella, Trinaty & Prolific Jason!
Dhanith Sri is a name that has been garnering a ton of buzz in the recent past due to his single 'Pandama', a clever amalgamation of electronica, guitar & organic
Chanaka Abeyratne (In The Company Of Clowns, ex Whirlwind & High Octane), Matheesha (Whiteline, ex Nemesis) & Shehan Wijemanne (SILK, ex Gray Mind Domain)