Jayasri & Chitral To Perform In The Maldives
On the 27th of October at the Sri Lankan Music Festival & Exhibition in Male..here's all the deets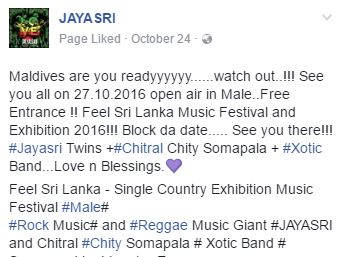 We like what we hear…its almost like something out of Asvajit's camp cept it's Shiran-ta's very own, we hope this comes out soon!
It's a big weekend for Nefertem as they get ready to launch their Ep 'Eucharistical Blasphemy' on Saturday at the Women's International Hall. Before the big day, get familiar with
Nisala Perera (Fallen Grace), Dj Alex (Kit Ryder), Dominic Johnpillai and Rahul Hewapatha, have an awesome one you guys!