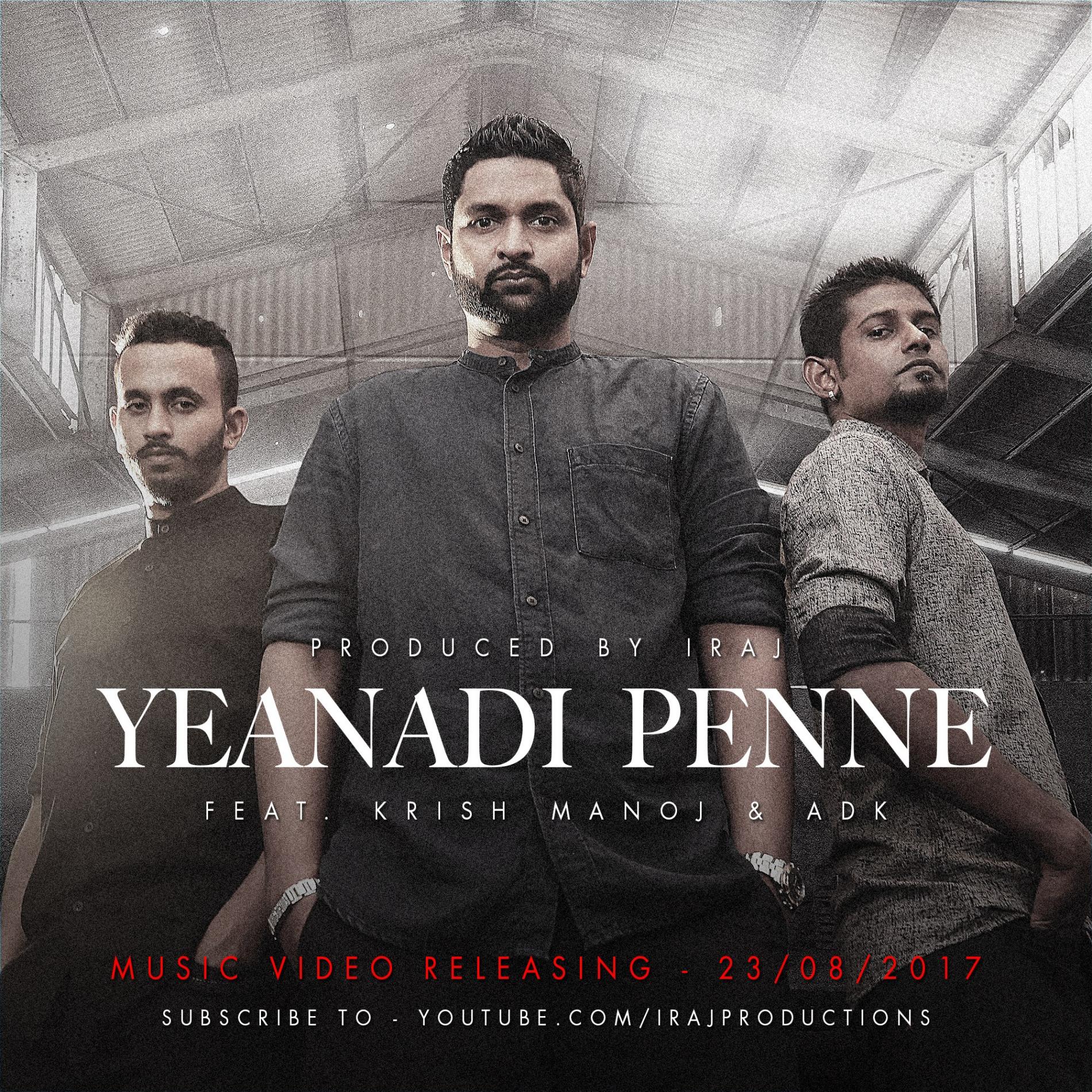 Iraj Ft Krish Manoj & ADK – 'Yeanadi Penne'
Released yesterday afternoon, the Tamil version of "Wassane Heene' sure has been taking over Lankan newsfeeds like wildfire and catching up we did with singer Krish Manoj.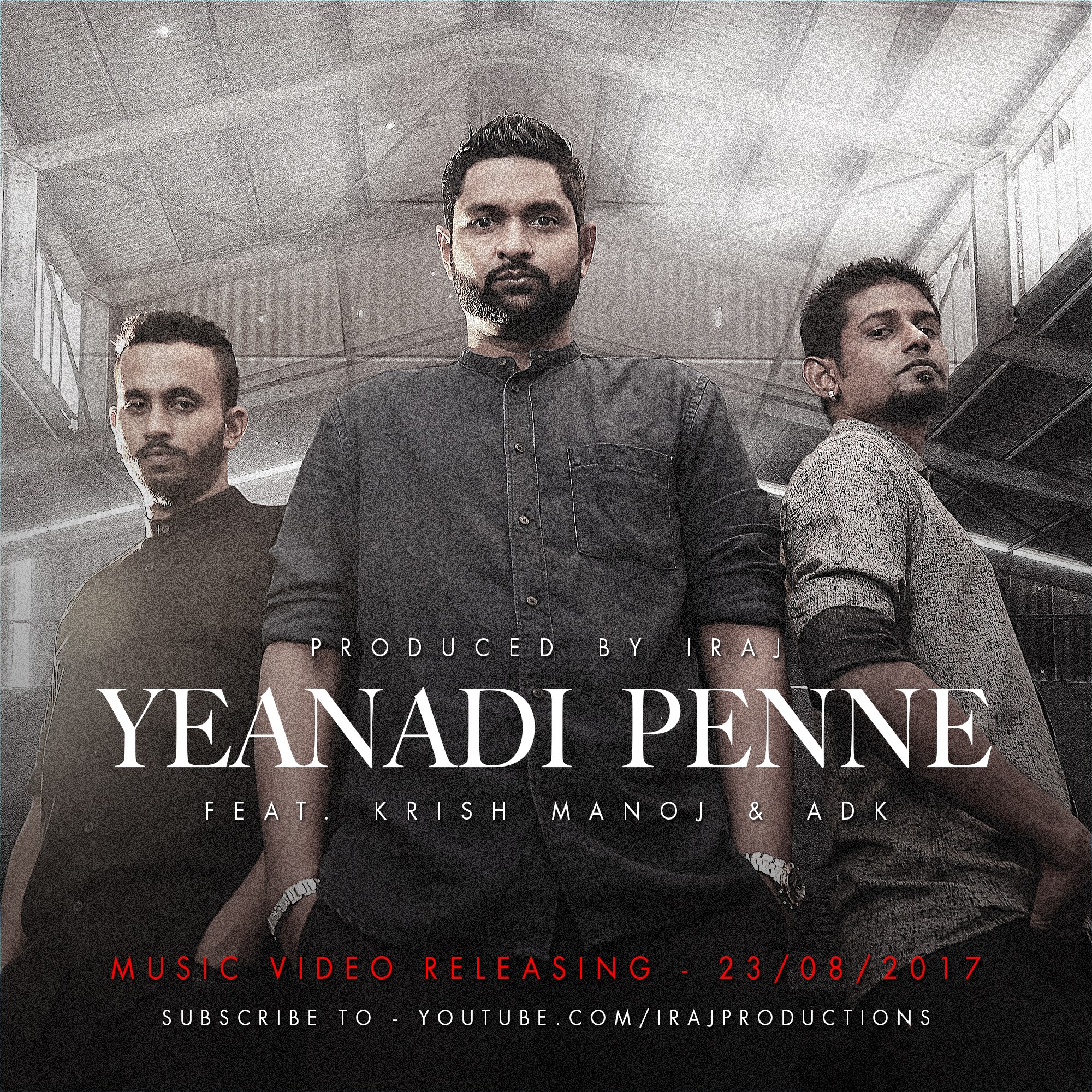 DecibelLK: About the Tamil version.
Krish: 'Yeanadi Penne' is the Tamil version of the super hit 'Wassane Heene'. This song (Tamil version) is something very close to my heart. After the recording Iraj was curious about featuring ADK for the addition of Tamil rap. We contacted him and he kindly agreed to be featured in this track. I was extremely happy the moment he agreed because it was my dream for a long period of time to do a song with ADK. My happiness was at level sky, because I never even imagined that I would get a chance to work with both Iraj and ADK on a project.
Ever since the recording took place at Iraj's studio, I have been day dreaming about this song. My recording was completed back in April 2017 but we had to wait for 3-4 months to get hold of ADK because he had a few projects under his belt and after a lot of struggles, I actually had to fly to Singapore to get ADK's recording done as he lives there.
This song just hit me deep, every single time I listen to it because the lyrics synced so well with my way of singing and with the melody as well. Iraj and ADK both are very happy about the output as well.

DecibelLK: About the rumors?
Krish: Myself and the melody composer Chamath wanted to do a Tamil song but we couldn't really work on it due to a few issues but the Tamil guide (melody) was leaked on YouTube. Just after a couple of days after the release of 'Wassane Heene', the YouTube leaked Tamil guide was caught on some gossip sites hands and they created a new story stating that 'Wassane Heene' is a copy of a Tamil song, which was never really true and Iraj was never aware of the leaked Tamil guide.
As soon as the gossip sites started making it hot news, Iraj called me and said that we could work on a Tamil version as well and release in a few months. Being one of the top artists in Sri Lanka, It was so nice of him to reach out to do a Tamil version. He could have simply ignored the gossip sites and move on, but he had the heart to get me on this track and this is probably the best thing to happen in my music career so far. I would like to thank both Iraj and ADK for this huge opportunity.
DecibelLk: Are you co-producing it?
Krish: No. Iraj is the producer for the Tamil version as well. Myself and ADK were featured in this track. The same video of 'Wassane Heene' is being used for the Tamil version as well but the shots of the singer and rapper will be replaced with shots of myself and ADK.
check out the video already Sri Lanka?
There's something about this performance thats too good, see how you dig this single by a few names that are part of the music/theater group – No Names
After a hiatus, 44 Kalliya's rapper K Mac is back with this all new effort with his long time buddy – Smokio. Serving up a side of realness with slick
A 3 producer collaba Ep comes your way on the 29th of the month thru Set About on beatport and other digi platforms. Celic (chile), TekanismTheory (UAE) & Hasith (Sri