Harinda Jayawardena's Cover Of Tin Tin's Theme
for a minute you are prolly wondering why on earth have we posted this?
1. cuz it is a darn good piano cover
2. it just got posted on the official Tin Tin fb fan page (only a fan would know what this means to any giginormous fan)
we haven't seen Harinda play live except that one time at Coco Veranda's "Open Mic Night" and there's one coming up in the near future, that later..check out his cover below!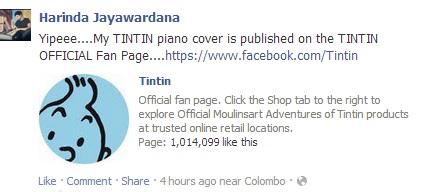 https://www.facebook.com/photo.php?v=10201425340908859&set=vb.293529774083100&type=2&theater
Its official! Hustler Bhai aka Hamdaan Hassan is back with another single and this around, he features an all new artist Dedo. The single is produced by Azim Ousman and while
Known for his pretty neat acoustic takes of most home singles, Youtube singer Channuka is back with his debut original and we think this is a pretty neat listen.
we like the coming of this announcement, at a time when we're hearing a lot of pretty electro heavy material…this comes as a refresher!