Harinda Jayawardena's Cover Of Tin Tin's Theme
for a minute you are prolly wondering why on earth have we posted this?
1. cuz it is a darn good piano cover
2. it just got posted on the official Tin Tin fb fan page (only a fan would know what this means to any giginormous fan)
we haven't seen Harinda play live except that one time at Coco Veranda's "Open Mic Night" and there's one coming up in the near future, that later..check out his cover below!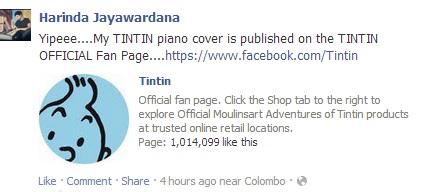 https://www.facebook.com/photo.php?v=10201425340908859&set=vb.293529774083100&type=2&theater
And here's another amazing video / take by fresher Amarsha Tissera from the one platform that's got a video out on the weekly – The Pettah Effect.
Here's another Dj / Producer duo (Tharin & Radith) who are making it big in their own way. Their debut release 'La Dezi' got its lankan radio premiere on the
We think this Lankan currently residing in Germany has something to him..check out his cover of "To Love Somebody". Wanna know more about him? Click here