Fete De La Musique Is Back In June
Here's one annual gig the entire rock/metal following of SL looks forward to, organized by the very cool people of Alliance Francaise De Colombo. we will update you on more details and we're very stoked about Paranoid Earthling slotted in the bill this time around!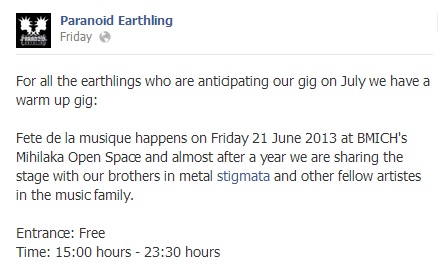 This 'unique to Minesh take' of Ed's single dropped a few days, check it out.
And this fresh beatboxer & singer is back with a stripped down take of that classic from The Killers, see how you dig.
And here's a sneak peek of Soundarie David's upcoming single, featuring a whole heap of talented musicians and vocals by that prolific poet – Meghan Dhakshini.