Eranga Jayawansa Has A Single On Vandit Records
You might remember this producer for his very popular ethnic rnb remix of "Clarity" from last year and it just so happens that this year just might be his biggest yet as his latest single ft Tricia McTeague "Welcome Anymore" will be released through Paul Van Dyke's label "Vandit Records". #AnotherFirstForSL!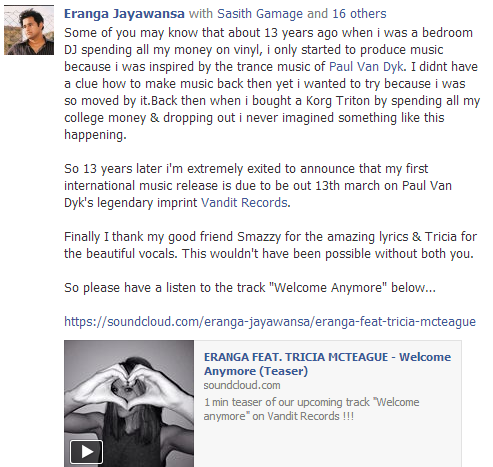 We know you can't wait, click already!
Its rare to be hearing Viresh do vocals in English but when he does, it's something you gotta stop and ceck out. Here's his take of that classic 'Angel'.
Released last night is this all new release by Kandy's very own Dhanith Sri. It's not everyday that you get to hear a slow single by him and this single,
This is the first time these two Royalists got together on the track and we think this is something by these two..good synergy on the track..thoughts?