Decibel Exclusive : Kody
Kody has been known to be in the scene for quite a while now, from his humble start at The Rock Company to TNL Onstage, a ton of live gigs and a few radio hits on TNL & YES101. 29th of October saw him bag the award for Best Acoustic Track at the 3rd edition of the YES Home Grown Awards and catching up we had to do!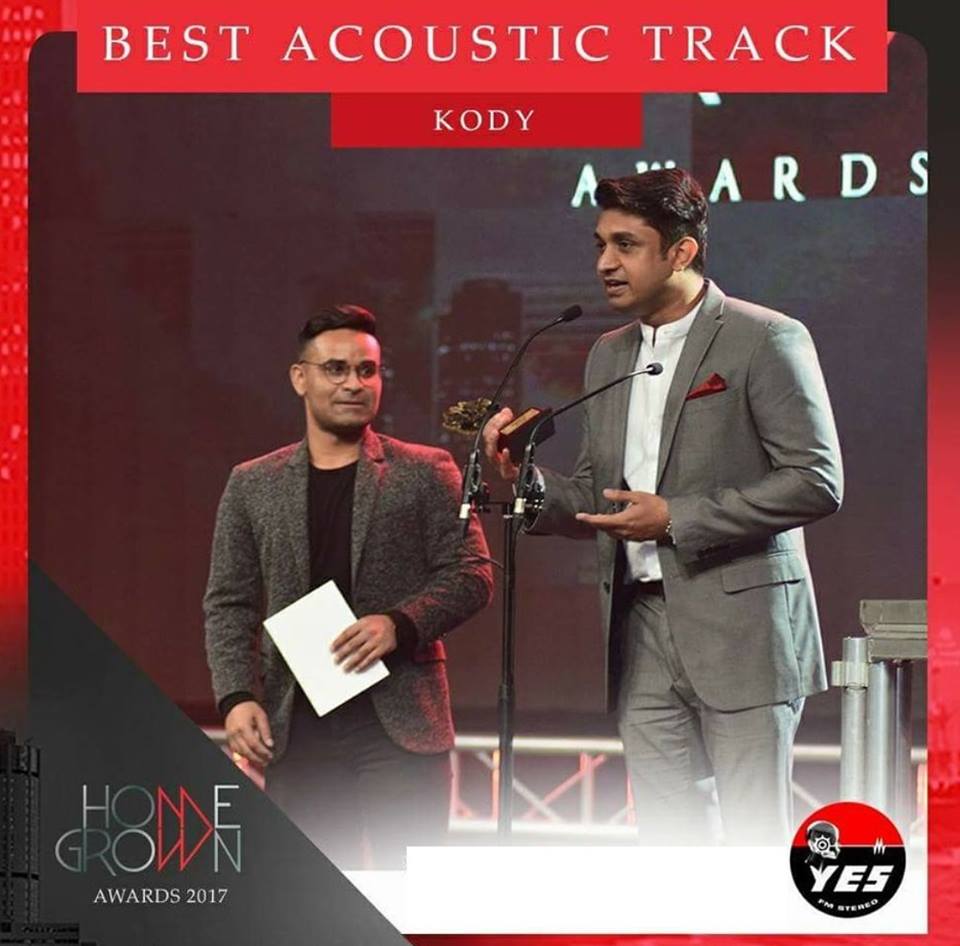 DecibelLk: How do you feel about winning the award for best acoustic track?
Kody: I did not expect it at all, I was late for the show, just got to my seat and it was the 1st award for the night. So was trying to settle down and then they called out my name… Just like that.
It was a long wait to be honest, 15 years as I mentioned in my speech. But what I didn't mention was how the track got written.
My goal was to create a dialog around the topic 'mental disease', so that people will feel free to talk about their struggles. The song was written around an actual character, a retired school teacher, who couldn't stop walking. I found it peculiar to see this man walking around the block over and over again. The last time I saw him he was using crutches because he had hurt his legs from this repetitive exercise. So it got me thinking, he must be getting some solace from it, so that's how the song "Footsteps" came about.
It's an acknowledgement that life is not easy and people resort to different ways to find peace of mind. In return, society needs to be patient, understand behaviors and help them!
This is why this award is more precious because it gives me the opportunity to share the story behind the song. And hopefully it can help heal the world at least a little bit… I hope 
DecibelLk: What does it mean to you?
Kody: It means so much to me because I'm an artist who has always been true to myself, I have never sold my soul to the devil for fame. To be recognized even with these beliefs and values. I feel, sets a good example to up coming musicians, so I sincerely thank YES101 for this!
You don't have to try and look young if you're not, you don't have to dress or look a certain way and you don't have to be perverse or controversial.  Just focus on your art, work hard to be better at it and give out a positive message and it will come back to you.
DecibelLk: What's next for you?
Kody: So I really want to form a full band and perform live, that's the dream and I definitely will be chasing that till I die! I've got at least 15 songs that I'm working on currently with different producers, so new songs will always be coming your way! I loved exploring new genres of music like what I did with Teklix, so I'll be pursing this interest as well… Also I would like to collaborate with artists. I've tried so many times to collaborate with established artists but, been shot down. So, I need to change this trend, therefore if there's any artist who wants to work on a tune together please reach out to me!
for a minute you are prolly wondering why on earth have we posted this? 1. cuz it is a darn good piano cover 2. it just got posted on the
Call this one of the best collabas to happen in 17! HNB partners up with our favorite travel peeps to help lanka travel without the hassles of cash …check out
'Stains' is one of those hotly anticipated singles from the home music scene this year by Salvage and here's frontman CC De Silva giving us the spills on it. Note: This