Decibel Exclusive: De-Coding Stigmata
What Is A Band Without It's Original Lineup?
MSR, SHALIKA HALL 2018 

(image by natalie soysa)
Until last February and for 17 years before that, Stigmata's magic trio was sacrosanct.
Suresh, Andrew and Tenny worked like a symbiotic ecosystem, making the band's one-too-many lineup changes withstand-able. That is not to say the bassists and drummers in the Stigs camp haven't contributed to their multi-versal sound. But here's the thing – the magic three are (or were) Stigmata's very core.
But no more the light fantastic; no longer the incomparable chemistry that we have been accustomed to hearing; Andrew Obeysekara left Stigmata – and for a second there, it was jarring. Throats in lumps and hearts in pieces, we posted tributes and wished them all well in what was a long goodbye to the Stigmata we knew.
Shafeek & Tenny : ROCK SATURDAY II, WOMEN'S INTERNATIONAL CLUB 2018 

(image by natalie soysa)
Serial Nostalgia.
Possibly the worst sin we commit as fans. The responsibility of delivering great music is left entirely to the musicians, but what about our own duty to be better devotees of a sound we claim to revere? So long as the demand for encores ensue, we hinder ourselves from being open to some great new music out there. And we will keep getting exactly what we desire, nothing more – nothing fresh.
This February, classic rockers Toto released '40 Trips Around the Sun', celebrating their 4 decades with umpteen familiar choons and 3 new tracks that might as well have been old songs. Toto used to be a great band – today they're a fan-driven outfit, reaping the benefits of sentimentalism.
MSR, SHALIKA HALL 2018 

(image by natalie soysa)
Lineup changes are a constant in the music business.
Fleetwood Mac recently announced Lindsey Buckingham's departure. Anyone familiar with his signature fingerpicking will find it hard to imagine Mick Fleetwood's band sounding the same again. But this isn't their first line-up change. The first Fleetwood Mac and their hit song Black Magic Woman are nearly forgotten. But founding members Peter Green and Jeremy Spencer departed and were replaced by Lindsey Buckingham and his girlfriend Stevie Nicks in 1975, taking their sound from British Blues to California Pop-Rock.
On Christmas Day that very year, heavy metal, heavyweights Iron Maiden were born. Since then, the band's 16 studio albums have recorded 12 line-up changes. Suddenly, Stigmata's constant changing of the guard seems trivial.
Iron Maiden have not only stood the test of time but evolved into one of the most financially successful metal bands to date. Think of a Boeing 747 called Ed Force One and a Discovery Channel series called Flying Heavy Metal piloted by Bruce Dickinson – and then tell me you still think heavy metal is an underground sound. Lineup changes be damned; Iron Maiden will always be more than the sum of its parts.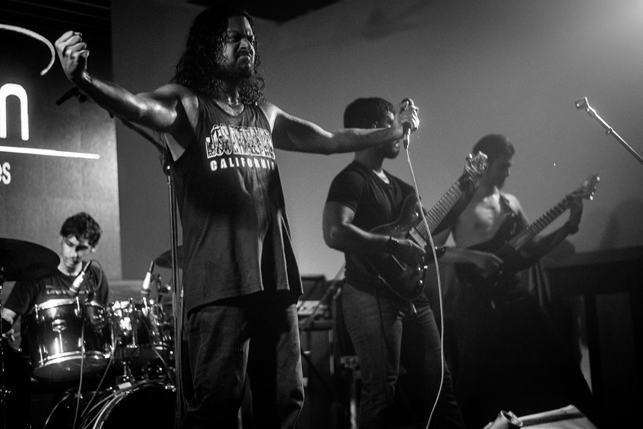 ROCK SATURDAY II, WOMEN'S INTERNATIONAL CLUB, 2018  (image by natalie soysa)
In a 2015 piece published in the Smithsonian, music journalist Geoffrey Himes asks a pertinent question: is a band without its original members still the same band? He argues that, as fans and bands alike, we can withstand most lineup changes, provided the frontman stays put: "Once that key voice is gone, we usually lose interest in the band" he tells us, reiterating his point with Nirvana: "It would have been foolish for Dave Grohl and Krist Novoselic to go on as Nirvana after Kurt Cobain committed suicide in 1994. Wisely, they didn't, and Grohl launched a new band, the Foo Fighters, with its own identity."
I grudgingly agree. Suresh de Silva and his elastic pipes are still very much a part of Stigmata and to see him go would guarantee the end. But the tendency to associate an entire soundscape with a single musician is unfair. To agree with Himes is to settle on the idea that Stone Temple Pilots were especially doomed for losing not one, but two front-men.
This was not to be. This year, in an interview with Pitchfork, Dan DeLeo said: "The best way for us to honor our past is to keep making new music". The band announced they were back in the studio, having recruited a new vocalist out of X-Factor, kept hidden and training for over a year. This March, STP dropped a solid, self-titled LP, reminding us that tragedy doesn't mean the end.
ROCK SATURDAY II, WOMEN'S INTERNATIONAL CLUB, 2018 

(image by natalie soysa)
I find myself directing Himes' question at the Stigmata sound. Our underground scene hasn't been shy of lineup changes; seeing a new drummer or bassist take up instruments for Stigmata is commonplace.
So, let's look at the more interesting change the band made instead – Tenny on lead.
Tennyson Napoleon is Animal the Muppet. Like Fleetwood Mac without Lindsey Buckingham, there was a natural aversion to hearing Stigmata without Tenny's rhythm. I could imagine someone attempting to fill Andrew's shoes – but Tenny's are possibly bigger. Shafeek Suhail has taken on one helluva hill to climb, so let's cheer him on, horns raised, as he attempts its summit.
What is Tennyson like playing lead? Was there even a doubt? Having little need to repeat history, Tenny continues to be an original; an authentic beast, imprinting his original chaos and constant rule-breaking – and they have refreshed what used to be some of our favourite Stigmata solos. Too cool, that.
ROCK SATURDAY II, WOMEN'S INTERNATIONAL CLUB, 2018  

(image by natalie soysa)
So, what is Stigmata without an original lineup?
To answer that would be to go back to the beginning and listen to how a constant line-up change can evolve a sound – and then especially look at what Tennyson contributes in his new role.
There is at once a familiarity and a reformatting of the familiar, a constant echo throughout Stigmata's 18+ years in the business. Hollow Dreams. Silent Chaos Serpentine. Psalms. TAP. No album has sounded alike or like anything before it. This new and most unexpected change of lineup only adds to their continuing story: Stigmata rebooted. Again.
Article by the very cool Natalie Soysa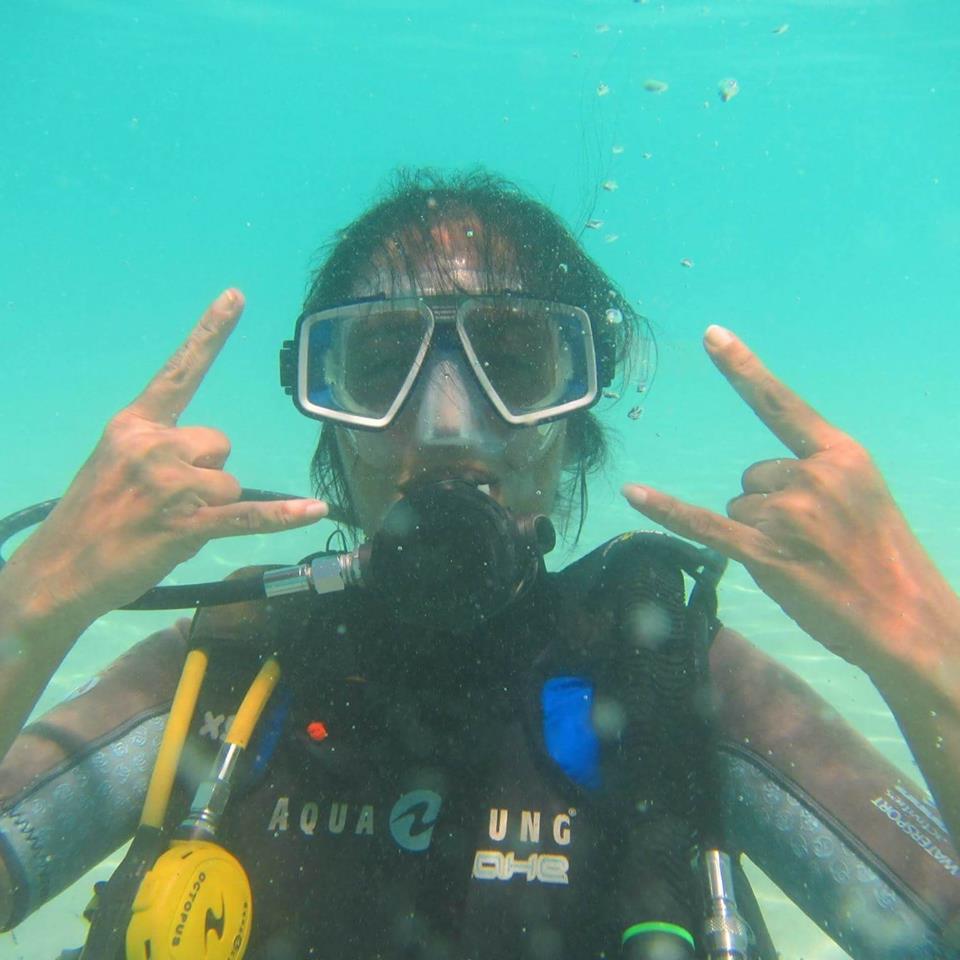 photographer/writer/sith lord
Producer Anuhas Isara is back after a hiatus with this all new track featuring fresher Amaya Perera. The video is directed by Akindu Abeysekara and is a debut MV for
Released yesterday comes this all new single by rapper Dem Da Diamonn. It's a follow up to 'Again', that was released last month.
Saturday the 7th, saw the first big festival take place in Bentota and a fun reggae fest it was! Packed with an all local line up , from the Dj's