Decibel Exclusive : Buddhika From P.A.C. On The First Resistance
Plecto Aliquem Capite has been on a performance hiatus for a while but they will be making a return soon, according to the 'First Resistance' Art work and we had to catch up with the founder of P.A.C. Buddhika Karunasekara for more on this.

DecibelLk: About The Gig and why is it so exclusive to 60 attendees?
Buddhika: As you might've noticed, it's very rare for us to have more than one gig at a venue in Kandy. Noise complaints, fights and random acts of vandalism are the main reasons why.
We found a new place, it's small, it's in the heart of Kandy and it can only accommodate about 100 people altogether. So we decided to make it very exclusive and limit it to 60 attendees (band members, photographers, sound guys will come up to about 30 anyway).
DecibelLk: About P.A.C.'s line up, is it the same?
Buddhika: I have reason to believe that I'll be on vocals 😛 along with Sanka, Chathuranga will be on bass and Kasun will be on guitars. We have a new session drummer for this gig. You'll find out all about the line up at the gig.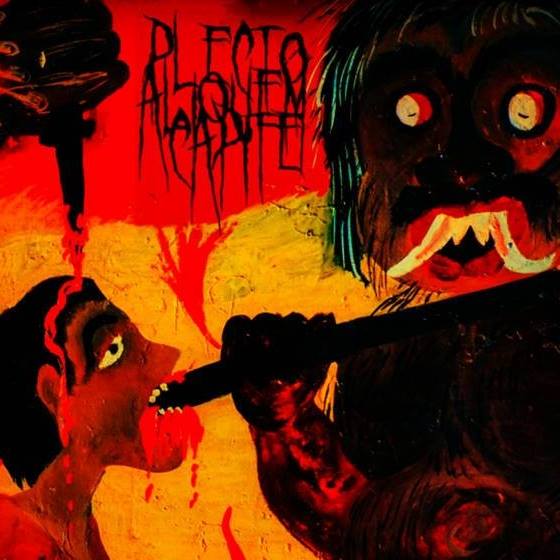 DecibelLk: About the last Ep..is it really the bands last?
Buddhika: That was the plan and that is why we called it "The End" (yes we are so damn creative like that) but we realized how much we like doing what we do at Plecto. So we all decided to do more Eps and an album before we call it quits.
DecibelLk: Are you happy with the response you received for 'The End'?
Buddhika: Yes, we didn't know what to expect because this EP came out after a 5 year hiatus (from the recording front). We got some pretty nice reviews and some not so nice ones from people who didn't like our sound (that is to be expected there's no middle ground with our music. You either love it or hate it).
We also got picked by UK's Global Metal Apocalypse at the GMA awards as the Breakthrough Asian Metal Band of 2016. The End also made it to the top 10 of the best Asian Metal Albums of 2016, a list compiled by Asian Metal.
So all in all it wasn't half bad.
DecibelLk: About this special bundle that you plan on releasing
Buddhika: Plans have changed a bit since I spoke to you last. We will release a DVD and a CD (an extension of The End if you may). It will be titled "Third World Psychosis".
The DVD will have two music videos for our tracks Hypersomnia and Parasomnia, shot and edited by Sidath Samarasinghe and we will also have the 4 tracks from our last EP along with two covers. This is where it will get interesting, we will be covering Fucktrance by Voices and something by The Deftones.
Third World Psychosis will be limited and will come with a booklet giving people a visual representation of the concepts behind the 4 tracks. Included in the pack will be an obituary notice with drawings done by the band on Absinthe and a personal message to any poor sod who decides to buy this.
Loss is the final single off their Ep 'The End'
DecibelLk: What does the future hold for P.A.C.?
Buddhika: The future looks good (well at least up till 2019). We will be releasing our debut album next year, it will be a concept album with 8 tracks based on Dr Jeckyll and Hyde.  We will also release an ultra-rare box set of all our releases in a wooden box (We have to do something special because 2018 marks our 10th anniversary).
In addition, we've decided to push on without a record label. Our music will be available on Bandcamp, Itunes and Google Play. We will do physical releases in small numbers say about 100-200 and we will have worldwide shipping.  Most of our releases will be on CD. I haven't really caught on with this hipster movement that involves tapes and vinyls.
We might look at the possibility of doing some band merch and will also have a couple of gigs in Kandy in 2018.
DecibelLK: What can fans expect at the gig?
Buddhika: Fans can expect a very drunk and/or drugged line up. Apart from that they can expect 1 cover and several originals. Yes, we will be playing music from "The End".
DecibelLk: Who else will be performing at the gig
Buddhika: This is the first gig in Kandy after two years and we wanted to highlight the Kandy scene (I guess it's not a secret that I am very supportive of the Kandyan metal scene). We have two great bands from Kandy, We've got the extremely talented Ancient Curse and Kandyan metal legends Forsaken.
We also have Rathas, a band that is bound to go places and Meningitis who will be adding a bit of brutality to it all. We might or might not have a couple of surprises.
DecibelLk: What about tickets?
Buddhika: Tickets sold in Colombo and Gampaha will be priced at Rs 1,200 and will include transport from Fort to Kandy and back. Tickets sold in Kandy will be Rs 800. You will get a digital compilation with every ticket.
Tickets are presold and will not be sold after the 20th of March. There will be no tickets sold at the entrance, beside we will not be publishing the venue anywhere.  I'm not sure if we have any left but I suggest you get in touch with:
Sanka – 070 264 0982 (For tickets in Colombo)
Sandun – 076 310 2827 (For tickets in Gampaha/Nittambuwa)
Virjan – 075 084 0946 (For tickets in Kandy)
Want to know more about P.A.C & the gig? Click here
We've never seen Dan go acapella and this is something we think you should check out for yourself too!
Hesh Jay is a Dubai based Lankan performer and singer who is just on the verge of releasing a brand new collaba with rapper DeLon, we caught up with him
We recall this track being one of the biggest from 2005 and used to be a regular on Sun Fm's playlists, TGIF Lanka! Fact: this was co-produced by the late