Chithru De Silva – "Seetha Rae"
Released thru Faith & Hope Records, here's a seasonal original by Chithru (TNL Onstage fame)..here's more deets on the single.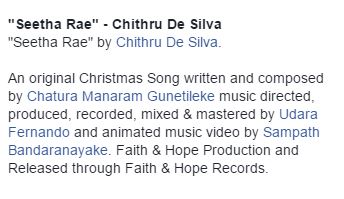 Dan has to be one of the few underrated singer/songwriter/musician in this country and this solo effort of his is another brilliant testament to his genius. one of his strong
Sohan Ratnaike (front man of Fallen Grace / second front man of Hollow) & Ruwini Seresinhe (pianist / ex Melodic Maidens), to the two of you all the best from us
Edition 3 boasts its diverse lineup yet with TNL Onstage winners The DnM Crew, Cairo & Spike. The venue has changed to the Voice Lounge, take note!