Big Reeno ALS Ice Bucket Challenge-Nominates Iraj
We await Iraj to take up this challenge =D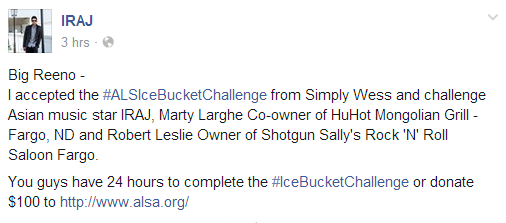 In case you are curious about the challenge and ALS
ALS is actually a pretty horrible disease –  Amyotrophic lateral sclerosis (ALS) is a progressive neurodegenerative disease that affects nerve cells in the brain and the spinal cord. Motor neurons reach from the brain to the spinal cord and from the spinal cord to the muscles throughout the body. The progressive degeneration of the motor neurons in ALS eventually leads to their death. When the motor neurons  die, the ability of the brain to initiate and control muscle movement is lost. With voluntary muscle action progressively affected, patients in the later stages of the disease may become totally paralyzed.
And here's why Not only has one of Lanka's biggest Tamil music exports been poised to perform with Sir A R Rahman in the near future, detail below. but also,
He's a positive rapper and this single "Dancing With Jesus" from what we know is an underground hit.
You would have seen him drop a few sick tunes @ an audio solo session or even seen some of his music pop up on your newsfeed, We think that