An Imperfection: The Movie
Why is this movie posted here?
Cuz #1 – Its by a Lankan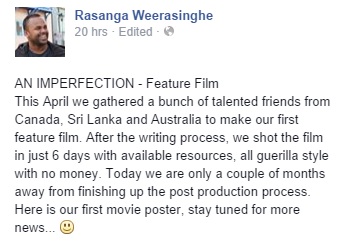 #2 Streetlight Mist are working on its soundtrack

#3 You get to hear a tad bit about Streetlight Mist's contribution on the YES Home Grown Top 15 tonight (8pm Sri Lanka time)
and it's done by none other than Dropwizz (Shiran-ta announced it on The YES Home Grown Top 15 last week) and it sees it's exclusive release this week on the
Melbourne based Lankan rapper Chux hit number 1 last night on the YES Home Grown Top 15 with his debut single 'Low Key' which features another Australian based artist Carter.
This is a first for the band..read on! This makes us not want to listen to teasers but the effort in its fullness, time…move fast!