An Imperfection: The Movie
Why is this movie posted here?
Cuz #1 – Its by a Lankan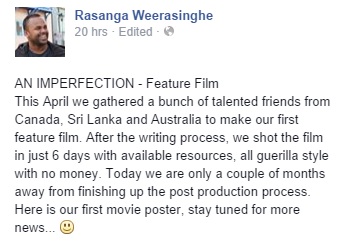 #2 Streetlight Mist are working on its soundtrack

#3 You get to hear a tad bit about Streetlight Mist's contribution on the YES Home Grown Top 15 tonight (8pm Sri Lanka time)
This all new single by producer Furny Doo is an EDM version of the famous 'Pina Gobbaya' song by Dino & Blok (as found in their 'Bad Cop' episode'). It
Award nominated singer Mapa has been silent for a tad but he's back with this 'from the soul' take of Ed Sheeran's classic 'Perfect' with some interesting additions too!
What Is A Band Without It's Original Lineup? By Natalie Soysa MSR, SHALIKA HALL 2018  (image by natalie soysa) Until last February and for 17 years before that, Stigmata's magic