Album Alert : Buddhi De Mal Releases The Legend Of Jim Brown!
It's official Sri Lanka, singer, songwriter & story teller Buddhi De Mal has an all new, full length concept album out and here's 3 reasons why its a big deal.
Buddhi De Mal : The Singer, Songwriter & Storyteller
It's an incredible concept album! Seriously tho, when was the last time you heard an entire story embedded in an album of strong musicianship and story telling? From a pretty strong 'Shot From Behind' to the final track 'I Shall Be', it's truly a journey! Plus point for the very Lankan sound packed 'Man On The Walk' "Explaining the concept behind the album Buddhi stated that; "Jim Brown is a rebel leader, reincarnating into rebellious life cycles and in his final lifetime becomes a rebel leader. The twist in the plot is that in each of his life cycles he is killed by his archenemy. The first song of the album which is 'Shot from Behind' gives a recap of the lives that Jim Brown lived."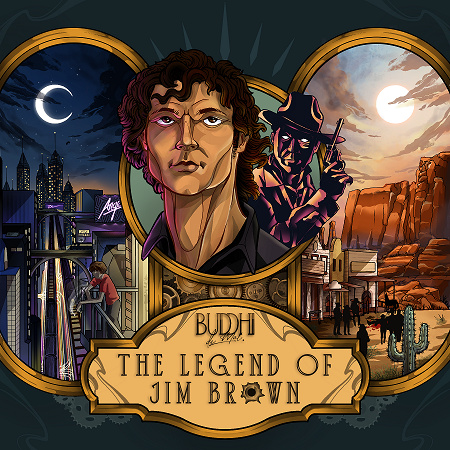 2. It's on Audius! Audius (blockchain) has been touted to be THE next big thing for artists. Shifting power straight to the artist instead of the usual record label & middleman bullshit. According to Audius "Artists get a 90% portion of sales revenue, with the other 10% going to node operators that support the network. Notably, the platform doesn't take a cut from the revenue'.
3. It's rock n roll, it's blues, it's everything rare this year so far in music.
Drawing inspiration from the familiar genres of blues, baila, reggae, and rock n roll, Buddhi narrates the story of the protagonist Jim Brown through all ten songs. – Nuff said!
Check out the entire album already! Don't forget to share and let the world in on one of the best albums from 2022, Sri Lanka.
He hit number 1 with his cover of "Get Lucky" with AHMIR on the YES Home Grown Top 15 yesterday. Well done and here's to another week!
Tamara Shamini known for her YES Home Grown Top 15 hit with Gershom Moses, 'Rain', is back with a sound that's equally catchy. 'Exclusive' is a fun, pop, dance single
Taken off BnS's first 20th Anniversary album release, the white version of 'Obe Nisa' comes this all new video for the single 'Wassama' that features ADK.