Stigmata Covers Independent Square's Classic "Anger"
we know we've reported about this eons ago but still is a noteworthy piece of news to keep tab of cuz of 2 factors 1.Independent Square is a band that inspired many Rock N Roll, Alternative & Metal Bands in this country and they are the godfathers of Alternative 2. Stigmata is covering them, and they too have the status of Metal Legends in our country and this cover is going to be on a very special edition of their remastered debut album "Hollow Dreams"…we cannot wait Suresh, now how about that radio interview we asked for?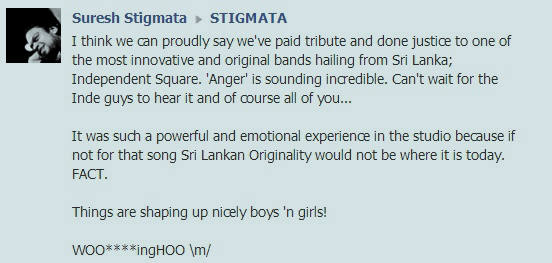 Wayo's monthly offering dropped on the first of Feb and we are lovin this tribute to the late Bob Marley!
Charming & simple songwriter stuff is what this all new single by the frontman of The Drift, Arnon Ray Pereira is all about. See how you dig this awesome effort!
Out on Coral Records, this single is a stunner and if you dig it, you will have to wait till Thursday cuz that's when it drops on beatport.