Ravin Ratnam ft Nushan & Naren: Everlong (Foo Fighters)
It's been a minute since this producer took some time off his busy recording schedule to release  anything of his own and this cover sure is something as it features  two friend's he used to rock out with before – Naren (ex FuzzMechanix) & Nushan (Mute)…check out his status post…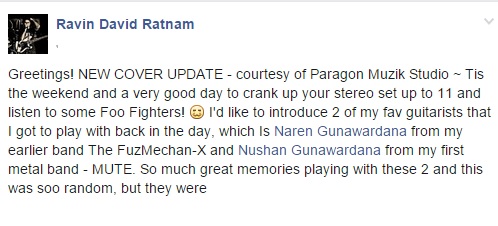 Now, here's an all new take by singer Kavya of that pretty old single 'La Vie En Rose' and we're loving this!
It's been a minute since rapper Melissa Stephen dropped a new single and we are lovin her latest! Titled 'What You Got Though', this is a follow up to her
Here's a pretty impressive single by a band we don't see much of from the Sinhala music scene. See how you like this.