News : Jayy Vibes Announces His Debut Ep!
It's official! After many years the Dj who is known for his unique style of dropping progressive house and his incredible Underground Therapy series, announced his debut ep!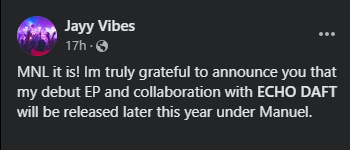 In a FB post, he announced that it was going to be a collaba project with Echo Daft, another Dj & Producer from the island's music scene. While no release date has been given, it's slated for a much later release this year.
'Allan Yanna Beri Athak' released on the 10th of April was at number 1 on Youtube's trending list at the time of this post. It's deeply emotional and is considered
Its not everyday that you get to see a band of their caliber come out and do this sort of music plus the video is a pretty fun and refreshing
Exceptional Uplifting Trance is what Avenger is known for and this is an effort that is worth the have. Its the classic sorta stuff that makes you think its Armin's