Hibshi & Shenic Announce A New Project
Yesterday saw producerr Hibshi drop the big news of him and Shenic collaborating on an all new project titled Middle Class Richkids..here's the post.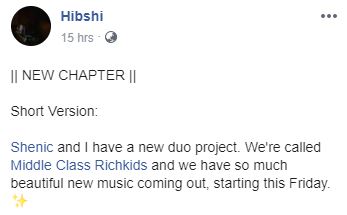 Keep tab by liking their FB Page
Rapper Assasinandie released an all new single titled 'Naa Mala' featuring Jay Princce 4 weeks ago. Yesterday saw the release of the music video to the single, minus Jay Princce.
Here's a few new names from the Sinhala trap scene and this is some pretty interesting stuff by them titled – 'Jeewithe Slow'
Here's a take of that awesome Led Zeppelin classic by Chitral Sompala from way back 2013, at the Trier Symphonic Orchestra (The Arena Trier – Germany).