Help Christian Q & Shokstik Put SL EDM Scene Onto The Map
even thought we've made some progress, a continual progress wont hurt =) show some support and submit your vote for the very awesome remix of Felix Cartal's "Fire"..you wont regret it!
http://play.beatport.com/contests/felix-cartal-clockwork-the-fire-feat-madame-buttons/51c7cc11b8ed7435e350cb52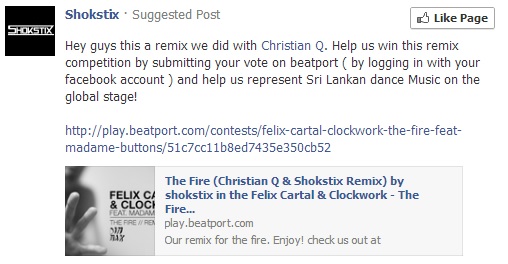 we had the privilege to see them live last year at Mosh.Scream.Rock and were impressed by them that could be hailed as the first Sinhala grunge band. we don't know
Is it even a Sunday without a surprise by singer & songwriter Minesh Dissanayake? Here's his take of two awesome classics from the 2000's – Perfect & The Reason.
we remember hearing this during the mid 2000's on TNL Radio's SL Hot 10 with Damien (Anil Balasuriya) and to this day think that this was such a fantastic single