Asela Perera – The Art of Getting by (Live @ "These Years" Album Launch)
Missed out on the launch of "These Years" by that very cool singer/songwriter Asela Perera? well, don't beat yourself up mentally…check out the live takes of the album's gems right here.
Want to purchase the album? click here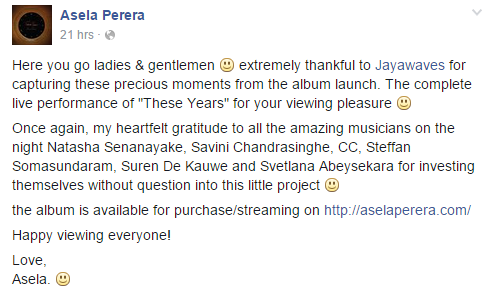 The Art Of Getting By
Fire/Desire
These Years
Waiting Room
Aftermath
Courage
Ghost Machine
A Foregone Conclusion
this is a very different sorta cover with some amazing tabla (we think this is turning out to be Sheaam's new fave), check it out as it aint too bad
Adding his fun touch to Sangeeth Wijesooriya's classic 'Babara Wage' is Asadithaya. See how you dig this!
Yesterday saw the drop of a much hyped single by singer Supun Perera and it's definitely lived up to its hype of awesome! The single is composed & pProduced by