The All New Deen's Kitchen Opens Today
Deen's Kitchen which is run by producer Az Sherif & that beautiful performer Shermaine Willis has an all new look and menu and from what we know, their all new restaurant which has a new menu opens their doors today!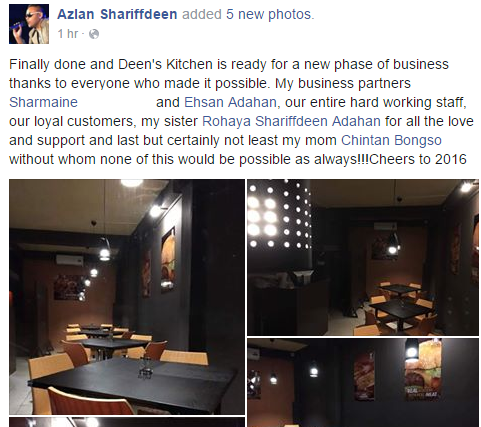 Deen's Kitchen has come a long way since starting off as a delivery & take out spot to now this and this is one of the few places run by artists from the home music scene, so do stop by and support already!
why is this a big deal? the artwork should explain. click here: 11th of November FTW!
Natasha Rathnayake (singer/performer), Ras Ceylon (conscious rapper), Hibshi (producer.The Sherifs), Twiggy Shikamaru (Dj) & Sam Perera (manager/Forsaken) ..Have the awesomest year ahead from us here at team yazminyousuf.lk photo
We were not aware of this single till now and this is mixed and mastered by Ravi Jay, who also happens to be a Sinhala rapper himself. check out some