Sri Lanka Added To The Line Up Of Metal United World Wide
It was yesterday when Pubudu from The Suriya Brothers made the announcement of Lanka being added to the growing number of cities & countries joining the metal movement.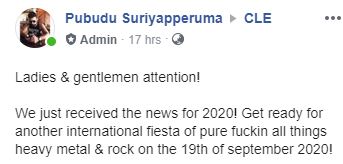 About Metal United World Wide
MUWW is a community project for the Metal World. There will be shows all over the world on a chosen single date.
Here's concert footage from the past
This is from a while back but still makes a great listen/watch..good down tempo set!, also its a bonus to be seeing these two B2B =) Asvajit B2B Geve At
Released a few days before the holidays is this Sinhala Rap collaboration with Yuki & Ravi Jay.
This is a pretty interesting name to come out of Kandy and have been around for a while..check out their single and see how you dig Learn how to