Sri Lanka Added To The Line Up Of Metal United World Wide
It was yesterday when Pubudu from The Suriya Brothers made the announcement of Lanka being added to the growing number of cities & countries joining the metal movement.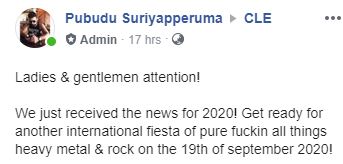 About Metal United World Wide
MUWW is a community project for the Metal World. There will be shows all over the world on a chosen single date.
Here's concert footage from the past
We think this is pretty unique! A dude totally owning a TayTay single! This must have been a piece of cake for Vy, I mean he is afterall the same
To the pioneer (lo-fi, experimental genres) from Kandy, Gihan Senivirathne..have the best year in music man – team yazminyousuf.lk
Iraj is back with yet another single and this time around with quite a few fresh and old names. It's been a while since LKA saw Killer B & BK