Sri Lanka Added To The Line Up Of Metal United World Wide
It was yesterday when Pubudu from The Suriya Brothers made the announcement of Lanka being added to the growing number of cities & countries joining the metal movement.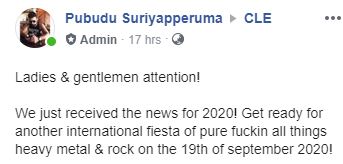 About Metal United World Wide
MUWW is a community project for the Metal World. There will be shows all over the world on a chosen single date.
Here's concert footage from the past
Happy Cake Day To Nishan Daniel (producer @ The Hit Factory), Ashwin Jayalath (Adagio Choralle), Geeth Prasanna (YES Superstar Season 1) and belated greets to Dj Dirty Flip aka Lakshan
Here's a brand new Sinhala drop for the season and it's by a studio collective featuring Sadara Bandara of 'Poddiye' fame.
We've always known producer Deyo to one day tap that trap and looks like that day is finally here, this is a teaser of what is a pretty interesting collaba.