"On the Wings of the Storm" Official Video & Single Launch concert
After a few weeks of teasing, words out on Social Media about this gig that's not to be missed!
Not only is this gonna be a concert but also for the first time the launch of a music video too which we think is a very cool concept…keep tab of their fb event page for further details.
Also here's an update you need to know about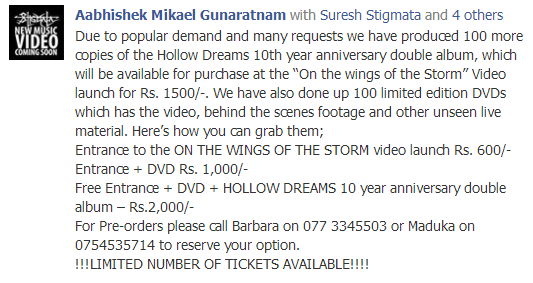 https://www.facebook.com/events/1473233016233852/
this 6 piece band (TNL Onstage 2005/ Butterfly fame) usually are fun to check out on any day of the week but we suppose Saturday is even a better day!
We don't know who else is scheduled to play tomorrow but one thing for sure, our very own Huzni is gonna be performing with his new partner in crime, Shashintha from
This looks like a pretty fun event and if you have no plans on Saturday, make this your go – to event The evening will feature all new material from