Jump Into The Old School, With These New Guys. Bloodkill Is Here To Fetch On Your Eyes
Article by Tejas Mundhada
Thrash to the core, thrash in their own feels! The guys from Mumbai, Bloodkill have recently released their latest album "Throne Of Control". This Thrash metal act has got over the old school sound and have come up with their own newer elements on their latest eight tracks.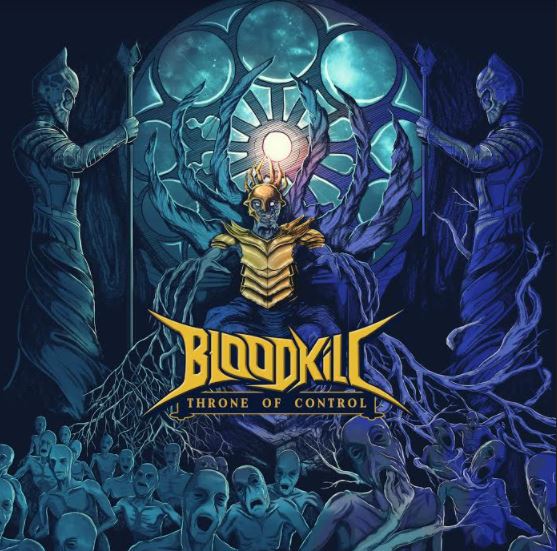 With many things to explore, thealbum consists of all the blast beats, complimenting real mind bending guitars.Listening to this album, I couldn't control my emotions to meet these newupcoming maniacs.
"Throne Of Control' is our debut full-length album, which has got an underlying story of how things are bitterly different from what it looks on the surface. Two sides of the same coin, narcissism, corrupted governance and the presence of duality in everything is what the album is all about." the vocalist Anirudh Golapudi said.
On getting in detail with these guys, I asked them about my two most favorite tacks from the album '3B' and 'Horrorscope', to which the Guitarist Vishswas told "These two are older tracks of ours, which were made during the actual garage days of ours." He further added, "Horrorscope was the first song recorded with Anirudh and Shubham in the lineup. The lyrical content overall deals with a somewhat apocalyptic world where man has fallen to his own creations and can only helplessly witness the destruction of a world which was once thriving."
Bloodkill consists of:
Anirudh Gollapudi – Vocals
Vishwas Shetty – Rhythm Guitars
Shubham Khare – Lead Guitars
Yash Wadkar – Bass
Jay Patil – Drum
The band has also got their merch out, with the sexiest artwork by Gaurav Basu (Acid Toad), from Inner Sanctum. The whole album is produced by Keshav Dhar, from Skyharbor, while the tracks were recorded at Illusion Studios.  
A metalhead from India. Drummer, pig squeals makes him go on a kill spree. Pit opener and respect for all kinds of life on earth and beyond
Sadara Bandara is no stranger to Lanka's music scene as the past has seen a few releases from this pretty intense singer & song writer. 'Poddiye', his newest release sure
Kody has been known to be in the scene for quite a while now, from his humble start at The Rock Company to TNL Onstage, a ton of live gigs
Draft is a Canadian metal band that has been our radar ever since they released their album 'Metamorphosis'. Dan Van Dort had to catch up with vocalist/guitar man, Dylan Fernando