Hesh Jay Has A Collaba Coming Up With DeLon
Hesh Jay is a Dubai based Lankan performer and singer who is just on the verge of releasing a brand new collaba with rapper DeLon, we caught up with him to get that scoop.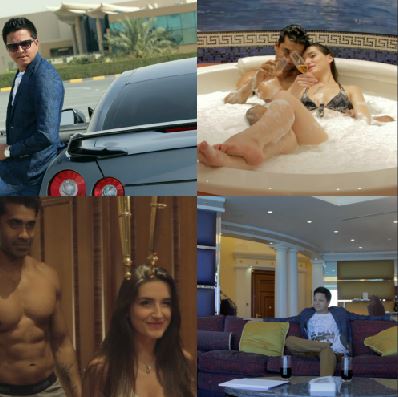 DecibelLk: About this single?
Hesh Jay : This is very different to the music I've been putting out during the last few years. There is no obvious traditional sound to it other than my Sinhalese vocal lines and also I've got Delon on the track. When I did hear the song it felt there was no one else right for the single except Delon. This is gonna be my first single that I am planning to release after I launched my very own production house and  record company called "HESH WORLD" in Dubai last month. It's a brand new team including Ramith Rox from Sri Lanka & also few foreign professionals This is a brand new era for me so I'm very excited for the future right now.
DecibelLk: Why Delon ?
Hesh Jay : Delon is someone who I've had on my mind to collaborate for a long time, so it was great that its happened. He is just a really nice, positive person and has great energy. He is also very wise having spent many years in the game, and has given me a couple of solid advices.
DecibelLk: About this video, looks like we're in for a few surprises huh?
Hesh Jay : I am very excited about it, to be honest it was dragging since last year and we've managed to shoot in 3 different locations namely Negombo, Abu Dhabi & Dubai. And also 2 prominent European female models will be featured on this.
behind the scenes cuz, why not?
DecibelLk: When is this gonna be out ?
Hesh Jay : Dates are not confirmed yet, but for sure I can tell you that will be releasing it before this summer.
DecibelLk: You have been quite for a while, what have you been up to ?
Hesh Jay : Well I was focused on my work and then got married last year and also had to travel a lot for couple of new ventures. I do understand that, if you disappear for too long, people think you actually are no more in the scene. So I am here with a new surprise!
and this deep / g house offering has a nice little catchy vibe to it too!
we love the vibe-honesty & realness from a working class hero! this is a instant hit in our books!
Catchy and an all new sound from Hirushi's camp is what 'Pahase' is. With stellar productions from Pasan Liyanage and dope Tamil rap by ADK this one is the hype