Decibel Exclusive : A Chat With 00200 Kinesthetics (Isaac & Dinuka)
Its a big weekend for the Colombo 00200 Kinesthetics as Saturday see's them launch an important album and in their own words, they will be 'Manifesting the core of the Musicmatters Collective with one unified objective; Electric Dancing Music!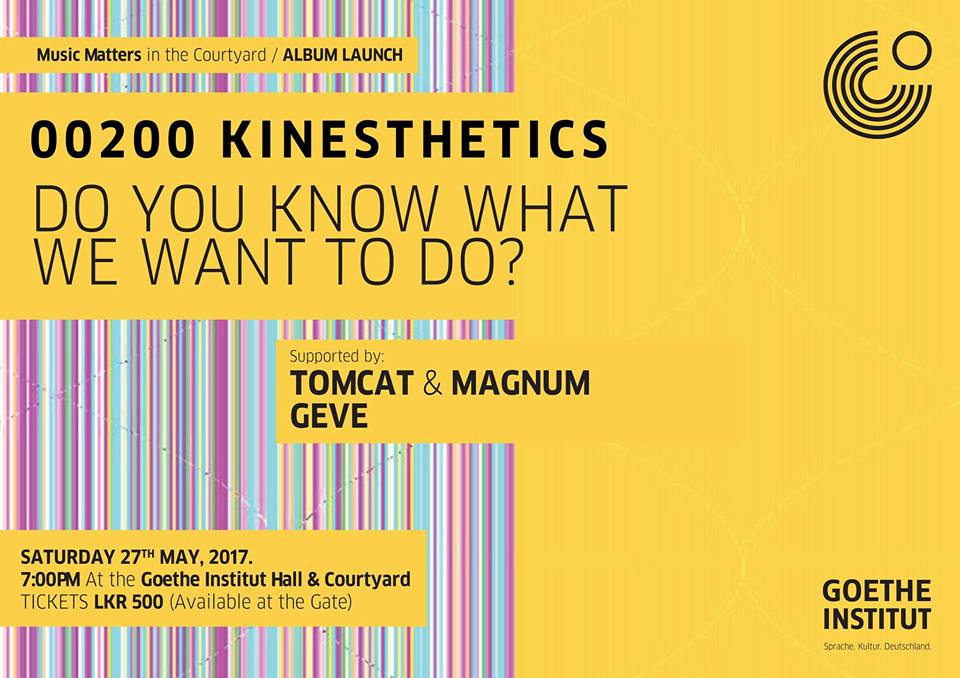 Joshua: What's the background story behind the album and how long has it been since the team started the writing process?
Isaac Smith:  So, the Colombo 00200 Kinesthetics which is the current incarnation hasn't always been the Colombo 00200 Kinesthetics. We were the Colombo 00800 Kinesthetics when we were in Borella until we moved to Slave Island.
There was always a large collection of experimental musicians who would gather around this space and we decided we would make music together that was more accessible under the name Kinesthetics.
Kinesthetics started in 2011 and has been through so many incarnations since then. When we started we were basically a double quartet. We had two guitars, two basses, two keyboards and we would just play around 10 grooves and each groove would last around 5 minutes each.  The band was looking at music that could be played over a considerable period of time to keep audiences engaged. Within this music there was space for musical dialogue. Some tunes had solos while others had different themes, some were just basslines and drumbeats with free improvisation on top.
Only recently has that music evolved into song form and that happened when we brought Dave Roberts into the scene. Some of these grooves were really old 'Mr. Elliott' and 'Highly Unlikely' were some of the original ones.
Dinuka Jayasooriya: Yeah, I remember listening to 'Highly Unlikely' and this was before it had any vocals on it.
Joshua:  So these tracks were in essence, jams that turned into songs?
Isaac Smith: Yeah, over the course of many incarnations of the band.
Joshua: How did you guys keep track of 5 years worth of material?
Isaac Smith: I really don't know, we kinda remembered the material 'cause we would meet up so often. It unifies us with a very specific objective of making dance music.
Joshua: What was the recording process like?
Dinuka Jayasooriya: It was great. The tracks were live takes with all the instruments recorded simultaneously. We recorded the tracks at the Sooriya village studio with Nishan Daniel and Sandesh Wickremesinhe, engineering the recording. We recorded some of the vocals and guitars in addition to the principle recording while staying true to the live feel of the album
Joshua: How many hours did the recording take?
Dinuka Jayasooriya: Around twelve hours to finish everything on the six tracks including the overdubs.
Joshua: Did you guys jam out the tracks or practice before you went into the studio?
Dinuka Jayasooriya: Yeah, we practiced the songs for a day or two before we went into record.
Joshua: Who were the musicians who contributed towards the record?
Isaac Smith: I can tell you who was there from the very beginning of Kinesthetics.
So we have Uvindu Perera on Bass, Sarani Perera on Electric Guitar, Sumudi Suraweera on Drums, myself on the double Bass at the beginning but now I have moved on to playing an Analog Synthesizer and also Isuru Kumarasinghe from the original line up. Joining us in the new line up is Yohan Jayasooriya on percussion, Dinuka on guitar, Rohit Gupta playing keyboards and also Nina Marie Fernando, a special guest who has now returned to America on keyboards and vocals. Last but not least, Dave Roberts on lead vocals.
Joshua: What can we expect for the release and when will it be happening?
Isaac Smith: It will be an online release and a CD release.
Dinuka Jayasooriya: We'll be having a release event on the 27th of May at Goethe institute. (click here for deets)
Joshua: What were the challenges you faced in the mixing process?
Dinuka Jayasooriya: There were not many technical challenges I faced in the mixing process as the recording was very smooth. I just listened to the recordings and tried to understand what the musicians were trying to express through the music and just bring that out in the mixing
Joshua: Do the tracks on the album vary a lot and if they did, was it challenging to mix?
Dinuka Jayasooriya: There's a lot of variety in the album from track to track but it did not make the mixing process necessarily difficult. I approached each track individually.
Afterwards, Isuru Kumarasinghe (who mastered the album) and I decided which song would flow best into the other in order to decide the track list.
Joshua: Is there anyone that you guys would like to thank?
Dinuka and Isaac: We'd like to thank Nishan Daniel and Sandesh for the recording, Jan from Goethe Institute and Nuwan Attanayake from Luna Productions for videography.
interview by Joshua for decibellk / want more info on the event?  Click here
It's not everyday that you'd come across such a unique sonic masterpiece from the Sinhala music scene. When the initial posts were out about the single, not a lot were
Producer Deyo & Janani have always made a terrific work team and this cover just oozes of some great sonic deliver and sharp production skills even though its a cover.
Dj & Producer Sajay is back after a hiatus with this all new progressive house gem titled 'Pareidolia'. Released thru onedotsixtwo, this all new release is on Eletrique Botique, which