Talent In The Bus
There are times that we all come across some amazing talented people who have no venue/audience to express to apart from the inside of a bus and its passengers.
This girl is one of the many who get on board buses and sing for a living, we sometimes wish that individuals like her would be given a chance to a proper means of income like singing for Ads, Jingles etc instead of wasting their time on reality shows that dont offer too much scope for people like her. We encourage you to spread the word on her as we believe in the power of shares.
How do you get in touch with her? We will post details soon.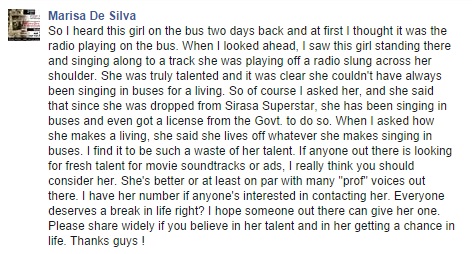 This take on John Mayer's single feels like just the right thing except for a few pitchy moments, a nice listen eitherway
This is actually an interesting single from the Sinhala Rap scene and while you will hear Busta Rhymes's "Make It Clap" being sampled, its actually got a distinctiveness of its
and it sure is one of the best we've heard after Dawn Jay's version of Dadam for the season, if this track doesn't make you feel warm, fuzzy and kinda