Sunset Music Festival To Announce 2nd Headliner
The road to probably the biggest festival this year at the CR n FC is full of the good things and that's why you'd need to wait a little longer..a few more hours really till the next announcement.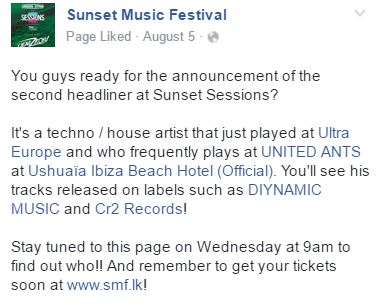 A second time is just incredible! We congratulate Dinesh on this and wish him the very best as he is one of the few Lankan's who have made it this
Shevin is a fresher from the home music scene and we think he puts together a pretty good mix! check this one out The Weekend Escape #2 by Shevin (Fox)
Dropwizz gives yet another track a Future Trap treatment and this iis nothing short of a damm good listen.