Dananja Aloysius – Lonely People
Dan has to be one of the few underrated singer/songwriter/musician in this country and this solo effort of his is another brilliant testament to his genius. one of his strong points is his gift of story telling in lyrics while you'll find that evident in "Women & Chance" you will only find it here in this song and of course the video is a very powerful one. word of caution, shit like this happens in the real world, we don't see it too often but if you can't handle reality for what it is..really, go figure.
Lonely People is the debut single off his upcoming album "Worship for The Broken"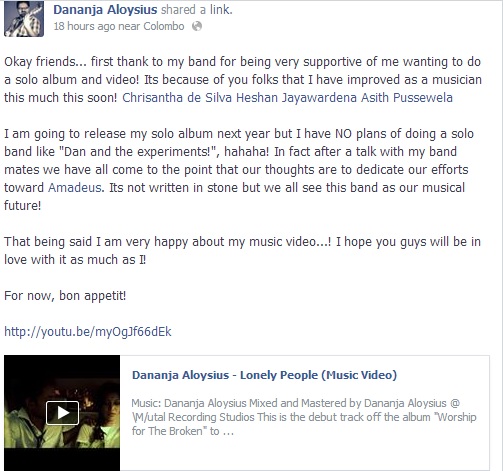 After a what seems like 2 years or more, he released this awesome Sinhala house track and we think its crazy good! Word has it that it will have its
Shiraz have the best one ever man! looking forward to your upcoming video for "Fragrance".
What makes this one of the hottest songs of late Jan/Feb? We think you need to find out before you take our word for it!